Last week's forum was held as part of the 2019 Macau Yacht Show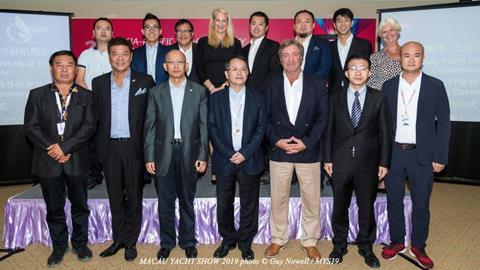 A high-level yachting forum was included as part of the calendar of events linked to the 9th Macau Yacht Show, which ran from October 24-27 at Fisherman's Wharf in Macau.
The forum, held on October 25, was organised by Suzy Rayment of Asia Yacht Press and focused on three key areas of the regional yachting market. These were:
Developing the Sailing Yacht Economy
Guangdong-Hong Kong-Macau Greater Bay Area (GBA) Yachting development
Marine Economic Development
The GBA's Pearl River Delta is the leading area of China for the country's hi-tech manufacturing and services sector, as well as the river being the region's main transport corridor. Developing local leisure marine activities as part of the fast expanding leisure spending on culture, fine dining, golf, supercars and even private jets is central to Macau's economic wellbeing, as reflected by the yacht show and the two other events running in conjunction with it.
Wang Yong, general manager of the Development Planning Division of the Nam Kwong Group which sponsored the yacht show and forum, welcomed delegates and presented an overview of his group's core business areas which make up an extensive and synergistic network of activities.
The forum's keynote speaker was Tong Shing, president of the Hong Kong Sailing Federation and a council member of World Sailing. "Hong Kong has 170 years of sailing history and continues to expand its sailing footprint with a number of international events in the pipeline," he explained.
"Hong Kong," he added, "is part of the GBA and is an ideal location for the promotion of sailing as it has easy access to the water, and favourable conditions for both dinghies and keelboats all year-round, and good infrastructure through clubs and associations. Youth training programmes should be the focus going forward if sailing is to continue to develop in the region."
A panel discussion followed which focused on the GBA and the development of yachting. Lawrence Chow, chair of the Hong Kong Boating Industry Association (HKBIA), told delegates of the association's developing membership now standing at 42 companies and the fact that it is providing the Hong Kong leisure marine industry with a much stronger voice.
He pointed out that the GBA economy and its waterways are at the centre of boating development in the region. Hong Kong is looking forward to hosting a marina tour to coincide with the ICOMIA (International Council of Marine Industry Associations) Congress to be held in Zhuhai in 2020.
Macau Yacht Club president, Albert Chuck, spoke about how Macau has a central role to play in the development of boating in the GBA. Macau's marine facilities are limited, as are its cruising grounds. Despite this, in recent years there has been increasing community involvement in the sport and a better understanding of boating in general.
GBA Yacht Club president, Wen Huan, spoke on marine and environmental matters in the GBA, expressing the need for boating fees and regulations to be restructured in order to facilitate a wider participation in the sport of sailing and boating in general. Working closely with the Guangdong People's Congress and the Shenzhen Municipal People's Congress, he noted there has been a large increase in car ownership and infrastructure. Yachting will also become more popular, he suggested, but the current complex regulations and high taxes need to be addressed to make pleasure boating more accessible for the general population.
The last panel speaker was Ye Run-Nian, president of the Shenzhen Boating Industry Association and GM of the Shenzhen Airport Hongzhou International Yacht Club. Ye talked about the growth of marinas, yacht clubs and regional associations in Southern China and how they are helping to promote the boating lifestyle in the GBA.
"There are more berths than boats," he said and, like Wen, suggested that the issues to be addressed are the boating regulations and costs surrounding the ownership of boats in China.
The Marine Economy Development topic was addressed by Donald Chow, the development director of Fisherman's Wharf in Macau. He highlighted the enormous potential of leisure boating in the enclave and mentioned his belief that the development of pleasure boating will be beneficial for the GBA on many levels.
Chow gave a simple example, "It's not just about boat ownership. You need to consider indirect benefits to the economy though creating marine jobs in manufacturing, maintenance, chartering and tourism, because as the boating community grows so does the supply and demand."
Joe Yuen, council member of the Asia Pacific Superyacht Association (APSA) and chief representative for Burgess in Hong Kong, explained that chartering of superyachts is still an unknown experience amongst many wealthy Asians.
"How do we get more yachts to the GBA for chartering," he asked, "and how do we encourage the superyachts to come to Asia?" He believes that local regulations are part of the problem and that superyachts would be willing to come if the rules and regulations were more transparent and followed international standards.
Liu Dian-Fang, executive vice president of the Xiamen Yacht Association, explained that private yachts in Xiamen also face challenges with regards to boating regulations, such as prohibitions on sailing at night and limits on passenger numbers, but these issues are starting to be addressed and some foreign certificates are now being accepted which is all positive for the future of yachting in the GBA and China.
Hu Xiao-Ming, vice president of the Sanya Yacht Association, was at the forum to promote Hainan as a new yachting destination, with a number of ports now opening up to private leisure boating as of June 2019. Hu believes that it is Hainan's unique environmental attributes that will draw boat owners. Whether it is diving, fishing or just cruising, Hainan, and specifically Sanya, are ready to welcome yachts.
The final speaker for this session was Roger Liang, CEO of Kingship Marine Ltd, who has been building big boats for the past 12 years in his Zhongshan shipyard, near to Macau. "We have a highly-skilled workforce that can work in steel and aluminium," he commented, "and shipbuilding is still a very labour-intensive operation. China's fibreglass builds are not as advanced as the shipyards in Taiwan, but China could be very good at making expedition superyachts."
Kingship's most recent launch was a 24m multihull aluminium catamaran that was built for use on a lake in China. China is a new market, and it is very important to understand the needs of the clients of this emerging market, he emphasised.
The forum's closing speaker was Andy Treadwell, CEO of Verventia Ltd, organiser of the Singapore Yacht Show and Thailand Yacht Show. He believes that the whole of the industry, from sailboats to superyachts and all the businesses in between, will only develop if governments understand the huge potential economic impact and social benefits that a developing boating industry would bring.
"Superyacht tourism is an opportunity and superyachts want to discover Asia, but current regulations are stopping them," he reported. "We know 250 out of 5,000 superyachts in the Mediterranean who would be interested in coming to Asia in the winter, but they don't come because they cannot charter. If they came for a season, they would collectively spend in the region of 1 billion dollars, and which would have a big impact on the local economy."
Treadwell asserts collaboration is the key to development, and if key industry players can work together to lobby governments in the right way, then the market will flourish. "Like the sport of sailing, where competitors come together to race in regattas, we need to instil the team spirit in the industry and grow the pleasure boating industry together," he said.
The forum concluded with the Hainan-Macau Individual Travel Cooperation signing ceremony which promotes the boating lifestyle attractions of Hainan to the residents of Macau and the GBA.