This was the first effort in the Australian market for NMMA and its member exhibitors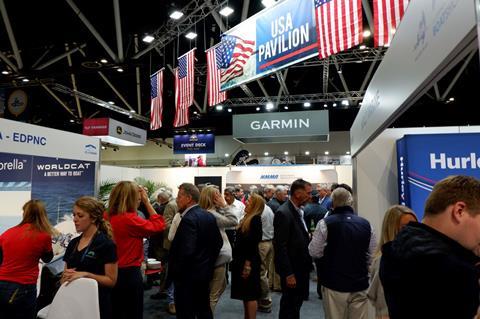 When trying to establish contacts and a foothold in a new, overseas market it's not enough to just show up; it requires legwork and marketing, and in some cases, a little libation.
Such was the case with 'Cheers & Beers', a Friday night reception hosted by the National Marine Manufacturer's Association (NMMA) USA Pavilion following the second day of the Sydney International Boat Show (SIBS).
This was the first effort in the Australian market for NMMA and its member exhibitors, who took the successful USA Pavilion model from the METSTRADE show 'Down Under' in hopes of establishing better export relations in markets unaffected by the current trade war between the US and the governments of China and the EU.
What looks like a party is really all business, according to NMMA's Sr Trade Director for Export Development, Julie Balzano.
"It's fun, and a great way to let loose after a hard day's work," Balzano told IBI, "but that's not the reason we do it; we do it because it's a very important networking tool."
Balzano said that it's difficult during a boat show for potential customers of US companies to break away.
"Our industry connections are all busy at the show with their own individual objectives and it gives them an excuse to walk over to the USA Pavilion to take a look at what we're doing here and who's exhibiting, and do it in a relaxed setting, to begin to make those connections."
And according to exhibitors like Ken Felty of Golden Boat Lifts, the receptions are invaluable.
"Friday night I met a gentleman who is on the Gold Coast and I'm going to see him tomorrow," Felty explained to IBI during a visit to his exhibit. "I also met a young lady from Safe Harbor Marinas, who we do some work with in the States. She was at the reception, saw the Golden Lifts logo on my shirt and she grabbed me and said, I know who you are you're working with our guys in Palm Beach. So, this stuff works," he added.
Just how well it works, may take a few weeks or a few months according to various exhibitors, but some should have a sense when the show closes later today.