New dates and venue for Australian Superyacht Rendezvous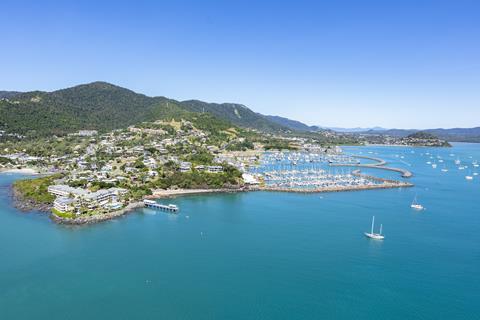 Following the promotion of Australia and the South Pacific region at the Monaco and Ft Lauderdale shows, Superyacht Australia is anticipating that over 100 superyachts will visit the country next year. The America's Cup races being held in Auckland, New Zealand in 2021 is a factor in this increase.
In a related action, the annual Australian Superyacht Rendezvous will change venue from Gold Coast City Marina to Coral Sea Marina in the Whitsundays, and the timing of the event will move from May to October.
David Good, CEO of Superyacht Australia, told IBI: "We had 76 superyachts visit Australia in 2018 and this year the number will rise to around 90 and we expect 100 or more next year. The America's Cup is a draw and they currently anticipate around 160 superyachts visiting, of which there are 126 firm bookings and at least 20 who have said they will book.
"Also, I have been told that we should hear something about the planned charter licence for foreign-flag vessels by the end of the year. We have been here before, but I have my fingers crossed for an outcome this time."
Securing such a licence has been an initiative of Superyacht Australia over recent years and twice it has been close to being finalised.
Partnering with Tourism Australia, Superyacht Australia recently exhibited in the Superyacht Pavilion at the world's largest on-water boat show, the Ft Lauderdale International Boat Show (FLIBS). Australia was promoted as a top cruising destination and a leading refit, maintenance and superyacht industry provider.
The Australian exhibit featured representatives including the Super Yacht Group Great Barrier Reef, Southport Yacht Club, Any Boat charters and Echo Yachts. Within close proximity were Australian marine exporters VEEM Propellers and Gyro Stabilizers, Aqualuma Lighting, Greencorp marine coatings and young Australian company Fliteboard. The destination stand featured imagery from Tourism Australia, highlighting Australia as a world-class cruising destination with key signature experiences available.
"The partnership between Superyacht Australia and Tourism Australia greatly strengthens the presence of Australia at large international events," Good added. "We were overwhelmed with the number of vessels confirming plans to come to Australia and the South Pacific region over the coming year.
"Superyacht Australia is working to increase the number of vessels visiting the region and Australia for refit and maintenance. Too often vessels feel they won't have maintenance support away from the major yachting regions of Europe and the USA. Australia offers refit, maintenance facilities and services that rival what's available anywhere in the world and once discovered, is often a comfort to captains and fleet managers. This aids in the decision to deploy vessels to this part of the world. There has been over A$100m spent on refit infrastructure in Australia in the past 12 months alone," said Good.
Joanne Drake, Super Yacht Group Great Barrier Reef (SYGGBR) manager, made presentations at both the Pacific Forum and at the USA Pavilion during the show. She stated: "We received great interest from vessels keen to assist in our Great Barrier Reef Census – a partnership with Citizens of the Great Barrier Reef, highlighting that surprisingly only approximately 40% of the natural wonder has never been documented."
She added: "By just visiting the Great Barrier Reef, superyachts are in a unique position to greatly assist in its future preservation by contributing to an overall snapshot of this area. Eco-tourism is high on the agenda for superyachts, boatbuilders and charter agents and this was verified by the huge support pledged during the show."
As to the Australian Superyacht Rendezvous (ASR) in 2020, described as the Southern Hemisphere's leading superyacht event, this will be held at Coral Sea Marina from October 16-18, 2020. This will be the fourth edition of this invitation-only event staged across the three days for attending international superyacht industry heavyweights, superyacht owners and buyers, tourism and industry professionals, plus politicians and media.
ASR 2020 will, as previously, showcase the Australian superyacht industry, its capabilities and economic potential along with Australia's destination appeal, marking it a uniquely intrepid travel destination for superyacht charters for luxury holiday-makers.
The three-day programme for the Australian Superyacht Rendezvous-Great Barrier Reef edition includes a full Whitsunday's superyacht and island immersion for VIP guests. Attending guests will be transported by participating superyachts to a range of land and sea-based Whitsunday-exclusive experiences including a lunch on Whitehaven Beach, reef adventures, wildlife tours and more.
Around $250m worth of Australia's leading superyachts – those for charter or sale in excess of 24m in length – are expected to participate in the Australian Superyacht Rendezvous-Great Barrier Reef edition.
Paul Darrouzet, owner of new host venue Coral Sea Marina Resort and who this year takes over the organising reins of the Australian Superyacht Rendezvous, says: "It is an exciting opportunity to showcase the superyacht cruising potential of the Great Barrier Reef. Australia's prominence on the global superyacht stage continues to gain momentum and the 2020 Great Barrier Reef edition of ASR is our opportunity to showcase to the world our unrivalled and pristine cruising charter grounds for superyachts."