As publisher of the METSTRADE Official Show Guide, IBI is pleased to provide our readers around the world with a digital edition for the 2022 show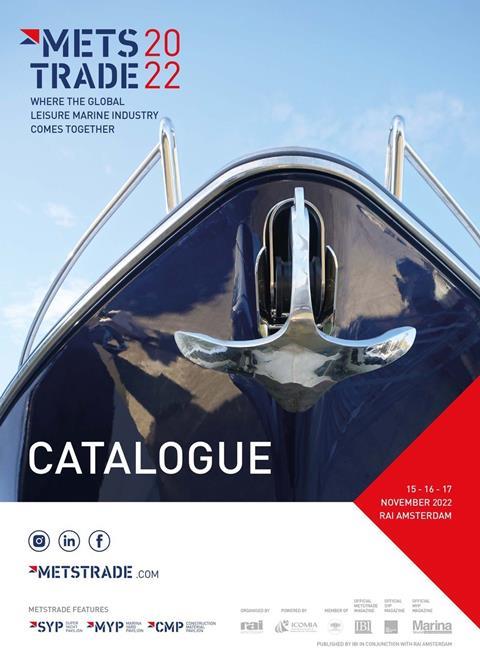 With exhibitor numbers approaching 1,400 – including 120 new exhibitors at the show for the first time (see page 80) – METSTRADE 2022 promises to be a bumper edition of the leisure marine industry's largest global gathering of trade professionals.
Everything participants and visitors will want to know in preparing for the jam-packed event is available in the Official Show Guide – published by IBI every year in partnership with RAI Amsterdam – and available here digitally
With a new layout, make sure to reference the digital floorplan and exhibitor listings for new locations, including Stand numbers along with interactive web links, as well as exhibitors taking part in 26 national pavilions.
Be sure to also check out the full schedule of events taking place across the show – including the premier first-day events – the Breakfast Briefing and DAME Award Winner announcements and the Boat Builder Awards dinner, jointly organised by IBI and METSTRADE in association with Raymarine.
A host of informative live sessions and interviews are scheduled at the METSTRADE Theater, the E-Lab Electric & Hybrid Showcase, the Young Professionals Club, the International HISWA Symposium, the HISWA Marina Symposium, the Holland Yachting Group Stage, and many other partner events…
IBI's stand and newsroom has a new location this year as well – located in the Elicium Hall where much of the action is taking place – situated along the main corridor connecting halls 1-5 with halls 10-12 and next to the DAME award winners, the Boat Builder Awards displays, the METSTRADE Theater and the E-Lab.
Downloads
Click link to download and view any attached files
Other | PDF, Size 17.92 mb