Local dealer Europa Yachts provides boats for new school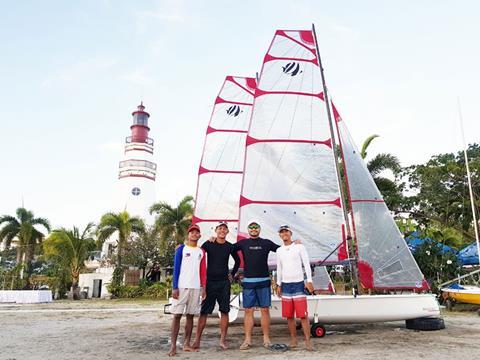 A new collaboration which commenced last month involving the Subic Sailing Club and local yacht dealer and services provider, Europa Yachts, aims to bolster the popularity of sailing in the Philippines and take sailing education in the country to a new level. A new sailing centre called the Europa Sailing School has been opened by this new partnership.
"Whether you're just curious about sailing as a hobby, a new sport to play, or as an exciting new career, the Europa Sailing School can help you learn all the skills you need to become a competent sailor," says Richard Sarinas, Europa Yachts' director of marketing and business development.
"The Subic Sailing Club believes that sailing is a sport in which Filipinos can excel and be among the best in the world," Sarinas adde. "We at Europa Yachts are thrilled to be of the same mind with our friends at the Subic Sailing Club in their desire to make this vision a reality.
"Indeed, with the inauguration of the Europa Sailing School, the club will be able to share their expertise and love for sailing while being able to repose confidence in the thought that there will soon be a new generation of sailors who will make the country proud."
An initial range of four courses is being introduced. These include a three-hour Intro to sailing option; a two-day Star Sailing course and others covering being competent crew and day skippering. The Europa Sailing School has experienced instructors from both the Subic Sailing Club and the International Yachting Fellowship of Rotarians (IYFR).
Marcus Avecilla, the Subic Sailing Club's current managing director and head instructor, will be the chief instructor of the new sailing school. He has received certifications from International Yacht Training (IYT) Worldwide, the Philippine Maritime Industry Authority, and Asian Yachtmasters. Working with Avecilla are FernanAbapo Sarmiento and Sean Mitchell.
The new school is just one of the Subic Sailing Club's initiatives to promote sailing in the Philippines. "We are proud to be partners with Subic Sailing Club in this endeavour," says Sarinas. "They have always believed in the potential of Filipinos to become world-class sailors. We, too, believe that Filipinos can excel at sailing on a global scale."
The Subic Sailing Club has pursued this objective since it was formed in 2004. It was previously known as the Saturday Afternoon Gentlemen Sailors (SAGs). Initially composed of expats, entrepreneurs, and sports enthusiasts with an insatiable appetite for sailing, the group aimed to spread the love of boating to a new generation of Filipino sailors
To help the club with its initiatives, Europa Yachts has provided the Europa Sailing School with several Beneteau First 14 sailing dinghies, an ideal starter boat for up to two sailors.
"It is exciting to think about how these boats could be the starter vessels for future world-class sailors," says Sarinas. "Indeed, we are honoured to lend a hand in this this undertaking, which aims to train the future leaders and players of the Filipino sailing community."
Europa Yachts Philippines is the local dealer for Azimut and a number of Groupe Beneteau brands including Lagoon, Monte Carlo and CNB. In addition, the company provides a complete range of aftersales services, from routine maintenance to equipment upgrades, and brokerage services for pre-owned yachts. Europa Yachts has been operating since 2013.