Licencing scheme helps NZ Marine training programme from strength to strength
NZ Marine Industry Association continues to be a beacon when it comes to training and apprenticeship programmes with a total of 460 apprentices currently being trained through 210 employers throughout New Zealand. In November last year The NZ Marine and Composites apprenticeship training programme won the 'Best Apprenticeship or Trainee Scheme' award sponsored by Marine Resources, in the annual Boat Builder Awards, held in association with Raymarine.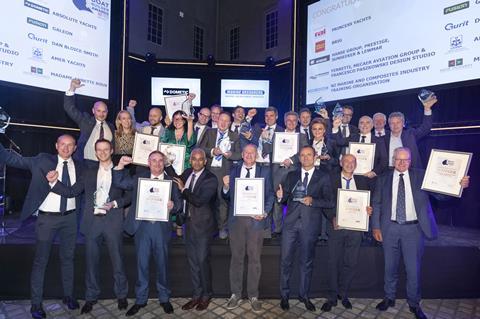 The Awards, headline sponsored by Raymarine and held during METSTRADE in Amsterdam in November, have become an industry benchmark for recognising and rewarding industry innovation.
A year on and NZ Marine training programme continues to go from strength to strength according to NZ Marine Industry Association executive director Peter Busfield: "The NZMarine and Composites apprenticeship training in NZ has continued its popularity, with additional employers, new apprentices and school leavers taking up apprenticeships in New Zealand's marine industry since we won the 'Best apprenticeship/training scheme' award at the Boat Builder Awards in Amsterdam in 2019," Busfield told IBI.
Licencing of the scheme has been key to its success claims Busfield. "We have renewed the licence agreement with the Nova Scotia marine association so they have access to the 'world's best boatbuilding apprenticeship' programs and we are in negotiation with other countries that are wishing to use our programs also. The income from licencing our programs offshore enables us to finance further research and development of our programs from boat building in composites to outboard motor servicing, trailer power boat production, to boat painting and marine systems engineering and more." Busfield told IBI that it was particularly pleasing to see the scheme's apprentices adding value to the build of the Emirates Team NZs America's Cup defender 75ft foiling yacht and even rockets going into space from the NZ company Rocket Lab.
Last year's 'Best Apprenticeship or Trainee Scheme' award sponsored by Marine Resources, was one of the most keenly contested with as many as five highly ranked entries that could have taken honours, with encouraging initiatives globally to address skills shortages. Princess Yachts' modern apprentice scheme was given an Honourable Mention on the night and judges expect the award to be hotly contested again in 2019.
"We are proud to be sponsoring the Best Apprenticeship/Training scheme Award for the 3rd year running," said James Ward of category sponsor Marine Resources. "Supporting the future talent of this marine industry is hugely important to us and there are so many fantastic people out there worldwide who are supporting, guiding, growing and developing the next generation of top boatbuilding professionals. It's incredibly important to recognise and celebrate them. We look forward to hearing about all the finalists and finding out the winner. Good luck to all."
This year's Boat Builder Awards for Business Achievement, in association with Raymarine, takes place on the evening of November 19 in Amsterdam. For more details about the Awards, how to nominate and purchasing tickets visit www.boatbuilderawards.com.
'Best Apprenticeship or Training Scheme' award, sponsored by Marine Resource
Are you pioneering an apprentice program or training scheme to attract talent to your company or the industry at large? If your company or organisation stands out as a leader in this area, why not nominate it for the 2019 Boatbuilders Awards for Business Achievement in association with Raymarine.
View Criteria & Enter Now