Boat buyers increasingly want 'smarter' boats, with every system accessible from centralised screens and remote devices. Jake Kavanagh reviews the latest trends in connectivity, from helm station to fridge freezer.
With the rapid advances in electronics and connectivity, smartphones and tablets are now used as remote controls for every system onboard a boat, including faultfinding diagnostics.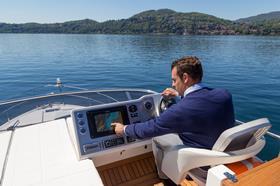 Just as with the phone, laptop and automotive markets, the 'capacitive' (responds to touch) screen has expanded to absorb virtually every function previously accessed by switch panel or keypad. The screens themselves are remarkably rugged and yet still highly sensitive, able to differentiate the number of fingers in use and the type of tap, swipe, or pinch needed to control the functions.
Connectivity has also made big inroads into situational awareness by combining the data from several navigational instruments at once. "Digitalisation on the bridge is all about collecting, processing and displaying navigational data," explains Martin Richter, Raytheon's sales manager.
The increasing automation takes the responsibility away from the owner, and allows the system to look after itself. "Full autonomy is coming," said Olav Otteriei, Rolls-Royce Marine's general manager for Automation & Control. "It will arrive on coastal ships first, and then be rolled out for trans-ocean passages.
Trend 1: Bigger screens, less buttons
The touchscreen has led the revolution in making the Multi Function Display (MFD) the heart of the system.
"Screens are getting bigger, with a smaller footprint by having less of a bezel," said Garmin's Nick Meadow. "The most popular screen used to be 7in for the smaller craft. Now it's 9in. On larger yachts, you will usually find a 16in screen. Very rarely will there be one of less than 12in."
This has also led to suites of engine gauges becoming graphics on the MFD instead. Rather than having to continually glance at your engine dials, the computer does it for you, and only alerts you if something needs attention. This saves a great deal of dashboard space and additional cabling.
Trend 2: Standardising the displays
In much the same way as the automotive industry, boatbuilders are providing an operating system that their customers will find easy to use, and standard between all models of a range.
"We work closely with these yards," said Dometic's Steve Morris. "We take in their innovations, and then give them the coding controls for all our products. We also give them a TCP-IP adapter, which gets Dometic on their network. They design the architecture to make sure the screen has the same logo and control icons in the same place. Even if the builder wants a common theme across the range, we suggest a standard Dometic control is accessible."
The boatbuilder – or owner – may also choose to have its logo on every screen as the default, just like a screen-saver. "All you need is the image you want on a simple USB stick," said Garmin's Meadows.
Trend 3: More plug-in connectivity
Just as domestic computers and other electrical devices have a multitude of connections (USB2, USB3, HTML, etc) the same is true for the marine industry, with the added complication of electronic 'noise' issues (see Trend 7). This means that the makers of MFD displays have to cater for just about every eventuality.
"What fascinates me is seeing well-established technologies being successfully used in leisure marine quite late in the day," said Kim Hollamby of du Pré Marine, a specialist in advanced systems such as FLIR thermal cameras. "HTML is one, Ethernet is another. Also DMX, a protocol used in theatre lighting for over 30 years now, but only now appearing in marine LED lighting, for example.
The big advantage of these familiar protocols is that they are proven. DMX doesn't fall over, if you follow some basic guidelines. Adopt DMX and it will work. For AV systems, a lot of the connections are familiar. The move towards more use of Ethernet, for digital video and data transmission, also makes sense.
"Our oldest marine protocols still have a use too. For example, although NMEA2000 is gaining rapid traction now, we all grew up with NMEA0183, and in the commercial world it is still an essential tool as it's pretty much bombproof, as long as some basic rules are followed. You'll continue to see products developed for it for a while yet, as well as clever ways of converging several streams of data to put it on a common backbone."
Trend 4: Greater use of 'modes'
Simplification can also come from only having the systems displayed that are actually available. Both Raymarine and Garmin have been spearheading this 'decluttering', and also collecting functions into 'modes'.
"For example, Garmin's SmartMode station control in 'docking mode' brings in everything needed to dock, such as rear-facing cameras, just as when reversing a modern car," Garmin's Meadows explained. "When in 'cruising' mode, the radar, chartplotter and sonar all come on line. This saves having to locate and throw several switches. One tap on the MFD brings up all the necessary displays, customised for your particular style of boating."
Where there are a number of systems working throughout the boat, they can all be linked together and controlled as one unit.
"The skipper can put a boat into day mode or night mode," said Dometic's Steve Morris. "This can be pre-set for the most efficient use of the chillers, as well as selecting which zones actually need to be chilled."
For others, the mode can also be geared to mood lighting. "One owner has a 'romance' setting on his lighting system," said Fischer Panda's David Payne. "It just goes to show that any CAN-bus system can be fully customised."
Trend 5: Cross platform viewing
Being able to view the data circulating between systems is essential, and a big advantage of connectivity is remote viewing. Programmes such as Raymarine's Active Captain, Volvo's Easy Boating, Garmin's One Helm and a soon-to-be announced platform from Simrad all allow navigational and engine data to be viewed remotely. Not only does this help a boat owner to keep an eye on his yacht from a distance, useful if it is on charter or has been borrowed by his offspring, but also allows OEMs to dip in and mirror the displays and diagnostics in their office.
This appeals to commercial operators wishing to remotely operate ships that rely on real-time feedback from cameras and monitors, as du Pré Marine's Kim Hollamby explained.
"The heat-detecting FLIR cameras that we sell are usually fully integrated with a ship's bridge, but we are being increasingly asked if we can we make that camera system available to fully integrate with autonomous systems, or work with a shore-based operations centre, maybe 20 miles away," he said. "This allows the crew to concentrate on operating the vessel, whilst the remote camera operator or even software can make the risk assessments.
"Full autonomy is coming."

Olav Otteriei, General Manager Automation & Control, Rolls Royce Marine
This works well in rescue scenarios or in piracy hot spots. Is there a casualty in the water, is there an approaching pirate attack and so forth? We're being asked to push a lot of data around, so the real boundary of success afloat now is not so much technology, but bandwidth."
Trend 6: More rugged build quality
Sensitive electronics that go to sea need to be properly protected, especially those that were originally designed for domestic use. Underwater lighting specialists Lumishore, for example, not only pot all their underwater fittings in epoxy for full watertight integrity and heat dissipation, they are also re-engineering the domestic junctions and other fittings for their new range of above water lighting systems too.
Boning, who make complete power and data distribution systems for both leisure and commercial marine applications, also ensure their systems are 'fully seaworthy.' They supply major UK boatbuilders via Applied Marine Automation.
"All our circuit boards are sprayed with a corrosion resistant coating," said Gifford Hooper, the marine design director. "All connections are bonded into place with torque seal and then tug tested. Special covers offer the final level of protection."
Because current technology is developing so quickly, soon all equipment will be easily accessible from your tablet with just a touch.
Trend 7: Dealing with 'noise'
A major headache for the marine industry is the electrical interference that comes from frequency drive electric motors. This can set up electromagnetic fields that influence other systems, and can impair efficiency. The industry is now trying to find ways to make marine systems fully compatible, but is facing the challenge of no common platform to work from.
"Frequency drive electric motors are used on a number of things on board, but if too many are working at once they can have a big impact on the pure sine wave output from a generator," said Dometic's Steve Morris. "This in turn can upset the analytics that use the sine wave as a performance indicator. We are very aware of this problem at Dometic, so we design our systems to make them less susceptible to noise, interference, and distortion."
Hardware being used aboard should be rated for marine use, says du Pré Marine's Kim Hollamby. Domestic items that have simply been plugged in to a boat's system are going to be cheaper, but often provide headaches and won't prove to be robust enough, or meet standards if the vessel has to operate to superyacht or other codes.
"There are some developments domestically that will no doubt make a big impact, such as the march towards solid state memory rather than mechanical hard drives, making them less 'noisy' and more robust."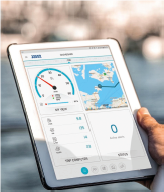 Trend 8: More apps
Wherever you have a flow of data, you have applications to use it, the so-called apps. Increasingly, these are designed to control a boat via a phone, the idea being that most owners will have the phone in their pocket, or a tablet computer nearby.
One such system is being rolled out by Italian gangway OEM Besenzoni, making it 'easier for them to get on board when they arrive at the dock, even if they have forgotten their remote control.' The app can also be connected to up to eight devices at once.
"We are ensuring that many Besenzoni accessories can be managed with the simple use of an app in the not-too-distant future," said CEO George Besenzoni. "We are focusing on the movement of the bathing ladders, boarding gangways, garage doors and hydraulic platforms. We are pretty sure that because current technology is developing so quickly, soon all equipment will be easily accessible from your tablet with just a touch."
To Summarise
In this fast evolving sector, screens are getting bigger, systems more centralised, internal WiFi more critical, and external WiFi more dependable.
The mobile device is increasingly being harnessed to remotely operate major ancillaries, and the glass bridge is making major inroads into luxury helm stations.
Installations are getting easier, junctions and modules more compact but electrical noise remains an issue.
Household hardware being used on boats is becoming more compatible, particularly computers and AV systems, and less power hungry.
Generally, people want a boat as smart as their car or house, even if that smartness is limited to a clever chartplotter on an otherwise basic dash.
The future
Some commentators feel that the boat will soon be able to skipper itself, and so factor out the 76% of accidents at sea caused by human error.
This may be closer than we think. With the development of Volvo's self-docking system, we are rapidly arriving at a boat that can basically follow a trip pre-designed on a laptop at home and emailed to the autopilot. The owner has remotely checked there is enough fuel, water and battery charge by interrogating the sensors. Once underway, going into 'cruising' mode will deliver optimal performance, with perhaps some time in 'romance', 'party' or 'fishing' mode at a pre-programmed spot to make full use of the time afloat. A boosted WiFi link will allow the owner to catch up on some work if necessary. Commanded to take the owner home, the autopilot will follow its pre-plotted route, checking for navigation warnings and liaising with any passing autonomous ships via AIS to avoid potential collisions. The boat will then dock itself back at the pre-fendered berth.
But, we asked Garmin's Nick Meadows, won't all this automation and connectivity detract from the basic boating pleasure of being able to escape our busy, modern world? He just smiled. "You can always switch it all off," he said.