With mature teak becoming ever rarer and more expensive, there has been a big swing towards greener alternatives. IBI investigates the latest deck covering trends, options and technologies available to yards and owners today
There have been some major leaps in technology when it comes to non-slip surfaces, driven by growing markets running parallel to the boating sector and with similar needs. These include houseboats, passenger ships (especially cruise ships), gyms, wet-rooms, swimming pools and waterside living space. These applications demand the same aesthetics as a motorboat or yacht, but often with much larger areas to cover, so cost and longevity become major issues.
With mature teak becoming ever rarer and more expensive, there has been a big swing towards greener alternatives. These include softwoods that are treated to make them harder and more 'teak-like' and a big surge in the rise of artificial or 'faux' teak deck coverings. These have traditionally been made from vinyl extrusions, but early versions proved heavy and prone to getting too hot in direct sunshine. Since then, advances in chemistry have made these alternatives far more practical, and with a whole palette of designs and colours to choose from. Whilst the more traditional yacht and motorboat owner will still favour a timber deck, those with smaller, faster and more outrageous craft often prefer decking that reflects their personality or matches the boat's customised colour scheme.
Plenty of options
For the leisure industry, this means there are now four main types of non-slip covering for external decks, including those for open cockpits. These include a basic pattern moulded into the substrate, traditional wood, faux teak, rubberised mats or non-slip paint. From here there are several subdivisions. For example, teak can be replaced with treated softwood timber for a lower cost, paint can be replaced with harder-wearing resins, and rubberised mats can be made from a wide range of other materials, from cork to EVA (Etheylene-Vinyl Acetate). The huge popularity of open pontoon boats and large cockpit sea anglers has led to the development of tough and washable exterior carpets, some of which are fully detachable to prevent them getting messy during certain activities. One party boat even covered its decks with domestic-grade artificial grass to soak up spilt drinks – and vomit.
For the production boatbuilder, the end result is a deck that is relatively easy to put down, looks great, and is cost effective. For the boat owner, it is easy to maintain, resistant to ultra violet and heat, and gives good grip in all weathers.
Whilst teak remains the industry gold standard of a quality 'traditional' deck, there has been a shift in buying trends towards alternatives that are not only cheaper, but greener. Customers are becoming more aware of their impact on the environment and want to do their bit for the planet.
For the teak suppliers themselves, they are keen to source their timber from sustainable sources where replanting is part of the business model. One yard in China has even established four teak trees outside the reception hall to endorse its environmental credentials.
The huge rise in the cruise ship industry – now worth £100bn a year to the global economy – has also led to some cost-effective large-scale decking solutions, whilst advances in CNC cutting has allowed customers to create some remarkably detailed patterns in wood, vinyl and faux-teak mats.
Here we'll focus on the various solid solutions to make an external deck not only aesthetically pleasing, but also practical and functional for a long life afloat.
General trends in deck coverings
Trend 1 Teak still reigns
For many owners, there is simply no substitute for the real deal – genuine teak, however good the artificial alternatives appear. "Genuine teak only comes from trees with the scientific name Tectona Garndis," says the literature for US-based Teak Deck Systems. The company straddles both camps as it provides both real and artificial versions. "Above all other woods, teak is resistant to rot and decay, and is not normally attacked by insects. It has high levels of dimensional stability, with minimal warping, and once kiln dried will not absorb significant amounts of additional moisture, which enhances its mechanical properties."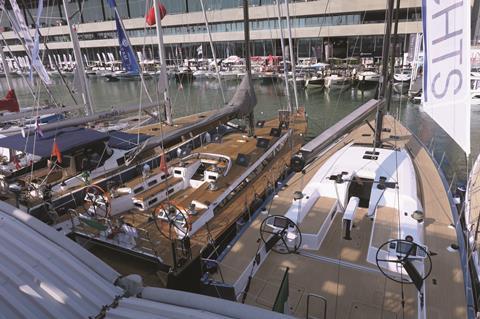 As with other suppliers of natural teak, Teak Decking Systems is acutely aware of the ecological damage being done by unregulated logging, so only sources its timber from sustainable forests. "Because our teak is allowed to grow in its natural state, it displays much tighter ring growth than plantation teak," the brochure claims. "This is a more durable product that lasts longer, so reduces demand for its eventual replacement."
Other timber companies are following this ecological path, and harnessing technology to minimise waste whilst ensuring a quality product. Dutch-based Bloem de Maas supplies superyacht companies around the world under the slogan 'No teak deck is impossible' and uses advanced autocad CAD and Rhino 3D software to produce 'exceptional designs with tolerances of 0.1mm."
Another solution to sustainability is a new product from Italy-based Nord Compensati, a major supplier of natural woods and composite panels to the marine industry. A specialisation is replica Riva deck panels. "Evoteak is the freshest addition to our range," said sales director Christian Ferrè. "Teak logs are sliced, de-structured and then reassembled. The final products are endowed with a seamless grain pattern, no inbred defects and with the same marine performances of non-treated teak. We produce Evoteak minideckings, superdeckings and a lavish 3mm veneer. And it's all FSC certified."
Trend 2 More innovative materials
Breakthroughs in other industries are steadily making their way into the marine sector, providing OEMs with an ever-wider choice of deck materials. The huge Italian company API SpA, for example, has been developing thermo-plastics for industrial markets since 1956, and regularly releases new customised compounds of TPU, TPE, PU and elastomers. These 'elastic' properties allow solid deck materials to remain flexible, whilst also being stable underfoot but easy to trim and glue.
Another key player is the Dutch-based giant Bolidt, which serves markets as diverse as sports goods, rail and road transport and the food industry. Constant ongoing research, often to meet the demands of a specific client, is revealing new breakthroughs for each market sector. As such, API and Bolidt supply a range of deck coverings for both the leisure and commercial marine sectors, and there are several others like them.
Ultralon would be a typical example. Based in New Zealand, this chemical company has developed an EVA material called U-Deck, which weighs just 1.4kg/m².
"Global sales growth has really come as customers' awareness of the benefits of foam marine decking has increased," said Paul Goddard, Ultralon Foam Group's general manager.
"It has become a viable decking substitute, economic at approximately a quarter the price of teak decking, and with a really good finish. The consumer likes the level of comfort they get with a soft foam floor, plus the fact that it's easy to clean with a lifespan of 5-8 years. We are also seeing fewer 'DIY jobs', with more owners wanting a complete fitted solution."
"Our focus for Europe this year is to find a strong central European based distributor through whom we can supply sheets, PSA laminating and CNC routing capability."
Trend 3 Tackling weight
Weight will always be an issue with anything that uses energy to move it, especially fast motorboats. The heavier the boat, the more fuel is required, and decks contribute significantly to the total tonnage. Whilst this isn't really a factor in buying choices for the boating public, it remains a consideration for the builders of performance craft.
Teak is classed as a 'heavy hardwood' with a density range of between 600-930 kg/m3 depending on species, but there are some interesting workarounds. One of the most obvious is to place slightly thinner teak strips onto a lightweight composite panel. An expert at this is Dutch-based Marron Yachtbuow. The company creates bespoke panels for the global large yacht industry and is able to shave a very helpful 2.3kgs off a square metre with no compromise to the deck itself. Similarly, cap rails, bulwarks and other deck furniture can be laminated to look like solid wood, whilst having a core of lightweight but tough foam composite.
Elsewhere, the softwood treatments such as kebony and lignua provide the oem with a tough hardwood finish for a weight of arou d 650kg/m3.
Other advancements have been taking place with the 'faux teak' alternatives. The Swedish company Flexiteek is a prime example. Having recently acquired the UK company Wilks and its Dek-King range, Flexiteek has also advanced its own brands with a second generation of PU extrusion. They've called this Flexiteek 2G, and say it is up to 35% lighter than rival brands. This brings it in at 4.5kg m2 by using some new phalate-free chemistries.
Some materials are already lightweight to start with, and these include compounds that contain cork. Dutch-based Stazo Marine Equipment manufactures Marinedeck 2000 by compressing granules of natural cork into a polyurethane binder. The result is a deck material with good grip and added insulation properties. The winner is EVA foam, such as Wasserdeck, Marine Mat or Ultralon, which tip the scales at just 400gsm.
Trend 4 Cooler decks
The Tropical sun is merciless and can quickly raise deck temperatures above bare foot tolerance. This isn't helped with black caulking seams that soak up the infra-red like a sponge. In the early years, sailors would find black stripes on their white uniforms where they had sat on partly melted seams of tar.
Teak itself tends to be good at resisting heat due to its fibrous nature, and the seam material has switched from tar to thermally-stable PU or silicon-based material. Companies like Sikaflex can provide seam material in white or grey to complement teak's natural ability to stay cool. However, the first generation of artificial teak was a solid and quite dense PU (polyurethane) which has a reputation for getting so hot that warnings had to be issued to always wear deck shoes, or risk burns. Advances in material technology are beginning to mitigate that problem. One solution has been to add ceramic beads into the compound to reflect back some of the heat. Another is to alter the chemical nature of the vinyl to make it less dense or add more air in the form of a closed cell foam. These solutions have often proved very successful. Flexiteek's new 2G, for example, claims a 30% saving in heat absorption compared with other faux teak materials.
Whilst real teak is only available in golden brown (or silver grey if you don't clean it) faux teak and other coverings are available in a wide range of colours, including light greys and pale yellows, with the seams in white, grey or cream. These colours also help minimise the IR absorption.
Trend 5 Ease of installation
The actual fitting of deck materials has been greatly simplified to help the OEM and the DIY enthusiast alike.
Even the creation of traditional teak decks, largely the preserve of the professionals, has been made easier by having the teak strips pre-fabricated into panels. The design is submitted to the teak decking company, which then uses a combination of design software and time-served craftsmen to create the final panel, taking care to ensure the wood colouring and grain is as consistent as possible. The completed panels are shipped back to the customer who simply glues them down onto a prepared deck, with no screws required.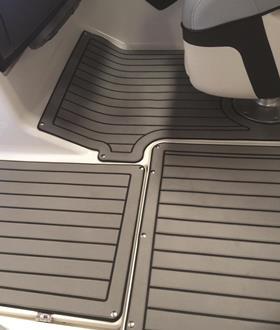 A design service is also offered for the makers of faux teak. The customer templates the area to be covered using a transparent mylar sheet and includes as much information on the templates as possible. These are then sent to the panel manufacturer along with some digital images to help the design team interpret the drawings, and maybe improve the shape a little. The panels are then made up in the factory and returned to the owner for fitting.
Companies like US-based Sea Dek and Marine Mat provide the decks with a self-adhesive backing, so all the fitter has to do is orientate the panel, secure it with masking tape, peel off the backing paper and push the deck down into position. The company helpfully supplies some videos with a guide as to how to do this successfully.
Trend 6 Better resistance to UV
Ultra-violet radiation is the curse of the boating industry, despite customers wanting to soak it up themselves. Natural teak tends to go a silver grey unless cleaned, and some of the early generations of faux teak would actually darken over age but could be revived by abrading off the top layer. Now the later generations of faux teak contain colour stabilisers and other additives to greatly slow down UV degradation to give a lifespan of decades.
Trend 7 Ease of maintenance
The turnkey boater wants to spend less time maintaining the boat, and more time using it. Whilst natural teak decks are prone to damage and staining from oil, diesel, red wine and sun-cream, artificial deck coverings are pretty much immune. Most stains will simply wash off, especially with a proprietary cleaner for that formulation.
A big problem with teak decks is when owners use a pressure washer as it damages the fibres, creating a contoured surface that is even more prone to getting dirty. The dense nature of faux teak means it is highly resistant to pressure washing, although owners are still advised to 'go gently.'
If a section is damaged, it is easy enough to cut out and a new piece inserted and bonded down with a good colour match.
Trend 8 Better aesthetics
Such has been the advance in technology that some artificial teak decks can look as good – if not even slightly better – than the real thing. This is achieved by giving the extrusion a natural grain, and even introducing slight banding shades to make the effect of natural timber even more convincing.
This grain also enhances the material's natural grip, giving a firm non-skid surface underfoot, even in driving spray.
At the other extreme, rich colours and deep grooves can be introduced to make the deck covering a virtual work of art. The Ultralon system, for example, along with Wesserdeck and Sea Dek all feature the ability to route down through the top surface to a black foam layer beneath, giving steep, water-dispersing channels that can be sculpted into a variety of designs.
Trend 9 Greater customisation
Customisation is a buzz word in our industry, with even the smallest production boats offering customer-specified options. Decks are no exception, with some owners asking for designs and even images to be included in the finished item. Craftsmen working with real teak can bring these in by using marquetry – or a CNC equivalent – but the process is easily repeated for faux teak and deck mat sectors.
In the design stage, the assembled panels are placed under a CNC router which carves the personalised name or design into the mat. This could be anything from a manufacturers name to a graphic outline of a sea creature. Sea Dek also offers customised mats in the same colour as the decks which sit on top of a portable cooler. The options are many and varied when working with EVA and PVC extrusions.
"We are the only US-based manufacturer of vinyl extrusions for decks," said Plas-Deck's Mike Kasserman. "Customisation is key, and with the extrusion plant just 20 miles away from our decking factory, we can specify short production runs with experimental colours. Some of these catch on big time, with light grey particularly popular in Florida at the moment. We can create designs in different colours and cut them into the deck design. As with all logo makers, we just have to be careful not to infringe copyright when it comes to some brand names."
Trend 10 Harnessing renewables
Boaters by their very nature love the great outdoors, so are keen not to harm it more than absolutely necessary. As such, there has been a big rise in interest in how raw materials are being sourced, used and then recycled.
Cork, as used by Dutch-based Marinedeck 2000 and Italian-based Marine Cork, is an eminently renewable outer bark material that is harvested every 10 years without doing any damage to the tree itself.
Softwoods grow quickly and absorb a lot of CO2 in the process, but their timber is unsuitable for seagoing decks. However, put it through a special treatment such as offered by Lignia or Kebony, and the result is an attractive, durable material that in some cases is said to be tougher than Burmese teak.
Other coverings such a Treadmaster combine two natural materials, rubber and cork, to create its famous diamond pattern decking sheets. However, as the directors told IBI some years ago, as the wine industry shifts to the use of plastic stoppers in its bottles, the abundant waste from bottle cork manufacture has dwindled, but they can still source enough natural product for the business.
In the world of faux teak, an increasing amount of the PVC material being used can be fully recycled to create new product, a growing trend now in the composites industry. The PlasDeck Eco range, for example, is said to use around 60% material from the cutting and trimming process.
"This allows us to create a budget deck covering that is just as durable, but with perhaps not the same consistency of colour, so is proving ideal for heavy tread or commercial areas," Kasserman explained.
Trend 11 Rise of the carpet
Deck coverings have invariably been fixed into place, but a recent introduction to the market are cockpit 'carpets' in a variety of colours and made from closed cell EVA foam. These carpets offer good drainage, good grip and are easily washed out. They can be snapped into position using stainless steel studs and support logos and graphics too if desired.
A pioneer for this highly versatile option is the US-based Marine Mat, which provides a series of finishes (brushed, dimpled and smooth) and colours. These mats can be removed if there are messy jobs to be done, relying on the moulded non-slip surface beneath for the duration.
Conclusions
The choice of deck covering, both natural and artificial, has never been greater. Natural teak remains the choice for larger and more traditional yachts, but even timber decked yachts often have faux teak in garages and other utility areas on board. The problems of heat and weight are being steadily addressed, and the greater use of EVA foam and multiple layer mats offers greater possibilities for cut-in designs. Some commercial types of faux teak now incorporate LEDs and luminous strips. Meanwhile, cork-based products are also enjoying a revival as customers become more concerned about illegal logging and sustainability.
Whatever modern materials you decide to put on your decks, they will mostly likely offer good grip, good design options, a long life and greatly improve the look of your boat. And if you want to change them, they are increasingly easy to strip off and start again.