Many of the trends seen in the outboard sector are being replicated with inboards, although the high fuel prices in Europe are placing more emphasis on good fuel economy
Whilst inboards are losing ground to outboards in the mid-range powerboat sector, the market remains robust within the markets for sailing yachts, motorboats and cabin cruisers. However, for many OEMs the largest part of the market remains retrofit and commercial. Here is some of the feedback reported to IBI from key players in the inboard engine sector, both for diesel and gasoline.
Trend 1: Greater connectivity and self-docking
Exactly mirroring the outboard market, arguably one of the biggest ongoing trends is the gradual increase in connectivity between the engine and its ancillaries. This has been facilitated by the gradual move towards NMEA 2000 protocols, a data bus that is said to be able to handle 50 times the data of an equivalent NMEA 0183, the original worldwide standard.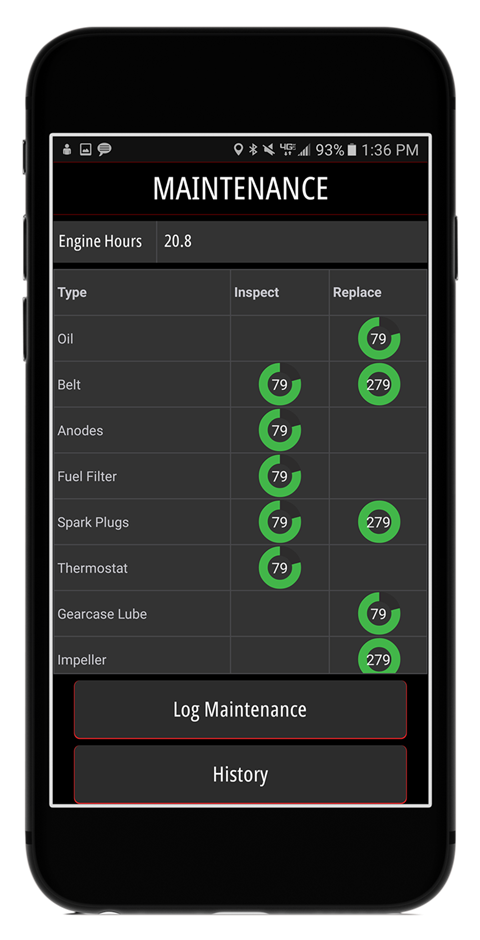 With so much information flowing between engines and ancillaries and with modern multi-function touch screens now so versatile, designers are eagerly pushing the envelope of what the boat can do for the owner with very little skill required.
The most obvious advantage is using a joystick to work both drive and thrusters in tandem to manoeuvre the vessel with absolute precision, but now there is the ability of the boat itself to take over if required and save you the trouble.
OEMs like Mercury have enhanced the inboard range with joystick piloting for multi-engine installations. Its Skyhook position holding programme has three new features, Heading Adjustment, BowHook and DriftHook, all of which allow the skipper to control a boat's orientation. Meanwhile, joystick control has also arrived for smaller sailing yachts, with Beneteau now offering its Dock And Go system on all boats above 40ft.
Volvo's EasyConnect allows all the engine data to be relayed onto a single multi-function display on the bridge. From here it can be used by its pioneering self-docking programme, where autonomous systems take over once the vessel is placed in the 'capture zone.'
"Linked engine integration with the use of wireless and fly-by-wire systems such as C-Zones, NMEA networks, mobile devices and large touch-glass navigation screens makes our wheelhouse a real spectacle and a pleasure to use. Supply and demand for connectivity and 'non-thinking' or 'zero effort' systems like these are booming"
In just the last few weeks, Raymarine has launched its own version of a self-docking programme called DockSense, which was on display at Boot Düsseldorf. The system is described as 'automating and simplifying docking by using FLIR machine vision camera technology and video analytics. DockSense integrates intelligence gathered from surrounding imagery with the vessel's propulsion and steering system to assist boat owners in tight quarters docking manoeuvres."
KD Propulsions' Niels Rozendal has also noticed the big interest in systems that can trim and handle the boat almost automatically, with very little input needed from the crew.
"Customers are entertained by all the advanced technical gadgets such as automatic trimming propulsions systems and engine power stabilizing software on load changing conditions," he observes. "Then there are the boat maneuvering and positioning systems with Joystick piloting for single and twin-engine installations in combination with a bow and stern thrusters (JPI). More valuable still is a pod drive for sensational maneuverability and focused power transmission. Linked engine integration with the use of wireless and fly-by-wire systems such as C-Zones, NMEA networks, mobile devices and large touch-glass navigation screens makes our wheelhouse a real spectacle and a pleasure to use. Supply and demand for connectivity and 'non-thinking' or 'zero effort' systems like these are booming."
Trend 2: Cleaner burn with common rail
The common rail injection system has become increasingly common in modern diesel engines. Electronic precision has delivered five main advantages, namely lower emissions, more power, less noise, fewer vibrations and better fuel efficiency. The main disadvantages are more expensive parts and maintenance than a simple indirect engine, but as more OEMs switch to common rail in response to tightening emission regulations, these costs are set to decrease.
"Yanmar now offers a full line-up of new generation common rail marine diesel engines," said Floris Lettinga, Yanmar's marketing director. "This enables more operators to experience the significant efficiency and performance benefits associated with the most recent electronically-managed common rail fuel-injection technology. Recent introductions include the Yanmar 3JH40, the world's smallest common rail inboard marine diesel engine, which is attracting an extensive variety of new customers."
Trend 3: The integrated package
Another trend is for the OEM to offer a complete installation package, including all the peripherals, usually achieved by partnering with other OEMs to ensure fully-compatible products. This is becoming more of an issue as systems become increasingly interconnected, so customers are seeking a one-stop shop for everything, much as they do with an automotive dealer.
French-based Nanni provides this type of global service to mariners with its new Platinum range of engines. Based on a Scania block, the engine is marinized using upgraded Nanni components, where everything from the fuel filters to the thermostat in the gear box heat exchanger is Nanni branded.
"We have even changed our logo to reflect our one-stop-shop approach," said Nanni's COO Gregorio Passani. "When we developed the Platinum series, we looked at three key areas; the marinization process itself, the manoeuvrability via an optional joystick control, and the navigation through a compatible Raymarine package. Everything is available through Nanni's global dealership."
Yanmar has also recognised the need to bring a full support package under one brand, including many of the ancillaries such as bow thrusters.
"Yanmar provides customers with the entire marine system by offering the whole propulsion and ancillary solution," Lettinga said. "Producing the most innovative marine diesel engines remains at the heart of its mission, with a range of additional equipment to suit a wide variety of marine consumers. For example, Yanmar owns Denmark-based Flexofold, a leading manufacturer of superior low-drag folding propellers and supplier of the world's only composite folding propeller. We also partner with VETUS, manufacturer of the BOW PRO series of bow thrusters."
Trend 4: More striking designs
Whilst the engine should hide away and be forgotten, there is a growing trend to make it attractive. Steyr famously recruited Christoph Aschaber from the Aberjung Design Agency to style the new SEC 4-cylinder engine range when launched in January 2018. Elsewhere other OEMs are adding significant design and branding tweaks to ensure that their engine stands out. "Owners do like to show off their engines," said Nanni's Passani. "This is why we have made the new Platinum series look aesthetically pleasing. Touches such as polished chrome rocker covers can make a difference by endorsing a high-quality product."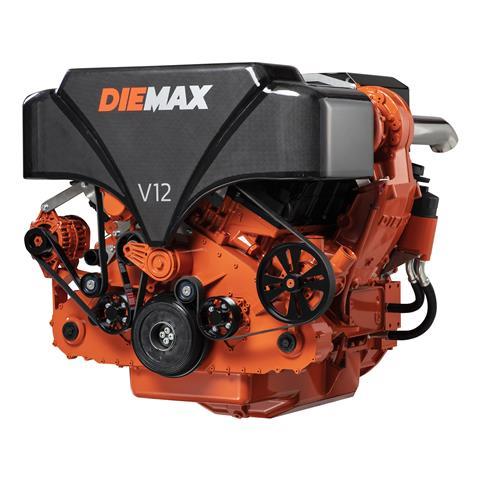 Colour and presentation has also become a key selling point. Boaters have been known to buy an engine for the simple reason it has the same horsepower as their original and looks good.
The new V12 Diemax engines, for example, are painted bright orange, the colours of the national Dutch team. This colour scheme also offsets the black carbon fibre cowlings and rubber belts to create a striking looking engine.
Trend 5: Ease of service
Being able to access an engine for routine maintenance is a major concern for OEMs, especially as new apps allow an owner to see when the next service is due.
Vetus has taken the design aspect a stage further by adding some practicality to its new F-Line engines, especially for the owner who likes to work on the engine themselves.
"We have ensured that the F-Line has good service accessibility and easy maintenance, with a very sturdy top cover that can be stood on," said Hans Jonker. "The engine is often used as a step to enter the engine room and people do not always step on parts which are able to support their weight."
Trend 6: More compact footprint
With boatowners wanting as much useable volume as possible OEMs are continually looking to reduce the size of their engines for a greater power-to-weight ratio. Hyundai-Seasall has developed a new engine to complement its successful S270 series V6 engine as well as it's smaller R200 series 4-inline. The smallest U140 series engine's launch which was initially scheduled for late 2018 has been postponed until early 2020. This is due to the advent of a new aluminium block base engine from parent company Hyundai-Kia Motors. "It would not make sense to launch a new engine with old technology when a more modern base engine will shortly become available," said Ted Fagerburg, director of international operations.
"There will be more OEM opportunities for our new small U-series engine once it becomes available. Distributors have been clamouring for it and we'll deliver when it's ready, tested and qualified. While OEM business is important and appreciated, repowering has been our bread and butter and we anticipate that this will remain the case in the recreational segment."
"There will be more OEM opportunities for our new small U-series engine once it becomes available. Distributors have been clamouring for it and we'll deliver when it's ready, tested and qualified"
Meanwhile, another relative newcomer, Dutch-based Diemax, has been successfully testing its new V12 engine ahead of full production later this year. Destined for commercial applications and to power high performance tenders, the company has used lightweight products such as carbon fibre, aluminium and titanium to create a 500-600hp diesel that weighs just 375kg.
Trend 7: Keeping abreast of commercial
Many companies that serve the leisure market are also very active in the commercial marine sector, where the demands are much greater and reliability is key. A relatively new player is Hyundai-SeasAll. "Recognising the reality of the strong penetration of outboard motors into traditional inboard and sterndrive markets, the company is placing more focus on its commercial engine range," Fagerburg told IBI. "The company has expanded its reach to five different base ratings (H380, H410, L500, L600 and L700) and a new medium speed 6 litre six-inline "G" series engine will make its debut later this year. This engine is destined to serve both the commercial and recreational markets."
The demands of commercial applications also lead to innovations that benefit the leisure user.
"Hyundai SeasAll has been quietly developing a new outboard-pod system based upon its S270 V6," Fagerburg explained. "This unit was initially designed for use in the Korean fishing boat market and is expected to go into serial production during the first half of 2019. Prototype and pre-production units are already running and firm orders have been placed for over 50 units. After an initial sales thrust in the Korean home market, the units will be evaluated as to their suitability for use in other areas and possibly for recreational use as well as in commercial applications."
Meanwhile, John Deere, famous for its agricultural engines, has designed its commercial marine engines to be able to be rebuilt in situ, minimising the need to disassemble the boat to lift the unit out.