The annual gathering of the international composites industry did not take place at the JEC show in Paris this year but the roll-out of lighter and stronger composites continues apace with boatbuilders and their suppliers moving towards more exotic carbon reinforcements, more versatile 3D printing and greater use of bio-based resins. IBI's Jake Kavanaugh highlights the latest in resins and adhesives, moulds and mould-making, machinery and processes and specific marine-related products.
NORMALLY AT THIS time of year, IBI makes its annual pilgrimage to the JEC Composites show just outside Paris and returns briefed up on a raft of exciting new products. Sadly, in 2020 Covid-19 had other ideas, but the organisers have put many of the advances online instead. The show itself has been postponed until March 2021, and if you are a boatbuilder or equipment manufacturer, this three-day exhibition close to Charles de Gaulle airport is well worth a rescheduled visit.
Composites are playing an ever more significant role in the marine industry. Recent trends, particularly in smaller craft, include the development of stylish and lightweight hulls that are fast to drive and fast to build. The focus on weight reduction is mainly to improve the efficiency of propulsion, whether it comes from motor or sail. Ultra-light hulls can also take full advantage of hydrofoils and range-limited electric propulsion.
Global concerns about plastic pollution and composite waste are also being addressed. As we discovered, certain types of reinforcements offcuts and surplus resins can now be cleverly repurposed. However, the glut of end-of-life boats remains an issue, with solutions like 'bio-degradable' materials just appearing on the horizon.
The industry divides up into five key areas, from resins and core materials to additives, machinery and software, and there have been some interesting developments in each. We have also looked at adjoining applications such as automotive, subsea and aerospace to see what might evolve to assist the boat builder. Suppliers within the marine sector have also been helping to tackle the current pandemic by re-tasking some of their production.
To read more about the most exciting innovations for 2020, download our feature on Materials & Machinery for 2020 (below).
WHO'S WHO IN THE COMPOSITE LANDSCAPE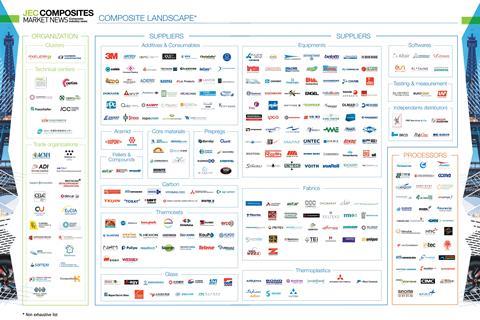 The JEC Group has produced this graphic to help explain the sheer size and reach of the US$83 billion composites industry. Described as 'not yet all-inclusive' the graphic still highlights the main segments and key players. JEC says it is working to enhance this graphic and will be adding more companies and details soon.
JEC World is scheduled to take place next year, March 9-11, 2021.
Downloads
Click link to download and view any attached files
Feature | PDF, Size 5.77 mb