As cars become greener, more electrified and even self-parking, are boat owners expecting the same afloat? 
According to ICOMIA's Recreational Boating Industry Statistics 2017, the most recent data available on global marine markets, outboard engines represent the majority of marine engines sold worldwide and continue building share in virtually every market. Among its findings: the US remains the world's largest market for outboards, with the type now accounting for 88% of all engine sales there. Outboards continue to gain market share across Europe and in Russia, while already dominating sales in Canada, the Caribbean, Central America, South America, Africa, Australia and New Zealand. About the only flat spot is Japan, where outboard engine sales in 2017 were reported to have increased by just 0.5% over the previous year in a relatively static market.
"We're not seeing people go away on the boat for two or three weeks any more. Their lives are increasingly hectic, so they're using the boat more frequently, but for shorter periods"
The leap from production cuts to product shortages in less than a decade results from more than just a rapidly rebounding global economy. There are multiple factors, beginning with a significant shift in consumer preference away from inboard-powered cruisers and sterndrive-powered runabouts toward day boats like RIBs, centre consoles and pontoons that utilise outboard power.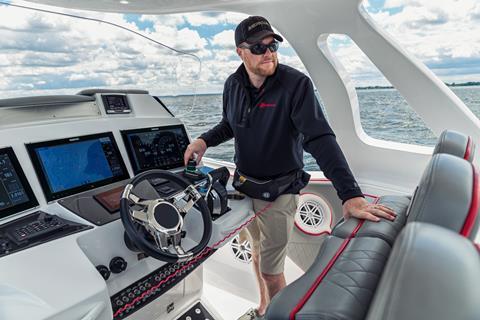 "We're not seeing people go away on the boat for two or three weeks any more. Their lives are increasingly hectic, so they're using the boat more frequently, but for shorter periods," says Gus Blakely, vice president, division head, marine at Suzuki Motor of America Inc. "That has driven a strong move toward day boats, which tend to be outboard-powered. The technological advancements in outboards are helping , by offering greater reliability, lighter weight, better fuel economy and more interior space."
The appeal of technologically-advanced features such as automatic trim controls, joystick docking control and digital throttle and shift cannot be overstated. With less time to develop driving skills and compile practical experience on the water, consumer reliance on automatic controls grows exponentially. "More serious owners are replacing product at a faster rate, and when they buy new, they are wanting a feature-rich product," says Yamaha Motor Marine Group president, Ben Speciale. "These owners don't want technology for technology's sake. They want it to improve their experience and add real value."
Exactly what constitutes "real value" varies by segment, but among engine OEMs there is clear consensus that boaters today expect more features and electronic connectivity than ever before.
Trend 1: More demand, fewer shortages
Sales data over the past decade from industry trade associations like ICOMIA and NMMA, from independent industry analysts like Statistical Surveys Inc (SSI) and from boatbuilders themselves all anticipate demand for outboard engines to continue growing over the next several years. Forecasts vary, but most sources anticipate 2019 growth of somewhere around 3%.
Continued demand represents a 'good news, bad news' situation for outboard engine manufacturers as some builders still struggle to catch up with order backlogs. The impact of engine shortages on smaller, niche boatbuilders has been particularly difficult. Canadian manufacturer Rossiter Boats was actually driven into receivership last June after the company ran out of money and credit while awaiting engine deliveries.
"In 2018 we experienced some challenges supplying outboards as the marketplace has many years of pent-up demand for larger boats and the outboard motors that power them," says Yamaha's Ben Speciale. "We have worked tirelessly to close the gap. I'm pleased to say that we think we have caught up to the demand for our larger outboards."
The emergence of a new outboard-powered sport cruiser segment has further fuelled the demand for multiple large outboard engines – especially in the surging US market.
"We have been chasing demand," admits Pfeifer. "It's not just Mercury. A couple of our competitors have also been in the same situation because the market just continues to accelerate and we're trying to put the investments in place to catch up. Over the past year in the US market, outboard units are up in the mid-single digit range and it's right across the board, from the 2.5hp portables to 400hp-plus. The average horsepower continues to grow, so the dollars growth rate is higher than the unit growth rate. From that perspective it's up considerably, not just mid-single digits. In Europe, it's a similar story where growth is just below that mid-single digit range. Demand in developing markets is also strong, as these markets have always favoured outboard propulsion because they're typically driven by commercial operations. They are also continuing to see increases in average horsepower and average unit price, because we're seeing a continuing shift toward four-stroke power in those markets."
Bottom line – demand for outboards will continue to rise worldwide, as manufacturers work overtime to meet delivery schedules.
Trend 2: Horsepower continues creeping up
Large, high-horsepower outboards continue to lead the segment both in terms of year-on-year unit sales increases and year-over-year growth in dollars. But at the same time, the industry average horsepower is also creeping upward, as consumers migrate toward larger engines with more features.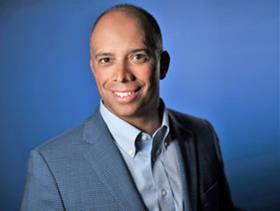 "The high horsepower category has been on fire," says Evinrude vice president of marketing and international development, Nando Zucchi. "Certainly a key driver of that is the saltwater market, where outboards are powering larger and heavier boats than ever before. But in North America we're seeing the widespread adoption of large outboards everywhere, including the pontoon segment and that's a high-volume category that's still showing continued growth. Where in the past a typical pontoon boat would have a single 115 or 150 on it, today we're seeing boats with twin 250s or even triple 300s. That market is robust – twin 300s on a pontoon boat is no longer an unusual installation for us."
"It's clear that the market is migrating toward higher horsepower everywhere. In the US we see the big centre consoles with three or four huge engines on them, and in Europe we see big RIBs with three huge engines on them."
Zucchi notes that the appetite for more power is a worldwide phenomenon. "As I've travelled the globe over the last six months, it's clear that the market is migrating toward higher horsepower everywhere. In the US we see the big centre consoles with three or four huge engines on them, and in Europe we see big RIBs with three huge engines on them. There are some differences, obviously, but the big picture is the same everywhere."
Part of the reason large outboards continue to lead sales data is because boats themselves continue growing larger. "The demand for more power goes to the simple fact that boats are growing exponentially," notes Brian Davis, co-founder and vice president at Seven Marine. "Take a 42ft or 43ft boat, then move up to a 53ft boat and the weight is almost double. And then you go up to 65ft boat, and it's almost double the weight again. The boats are getting much bigger and much more feature-rich as the market matures, which means they're also growing heavier and require much more power to move them. So, demand for large outboards is growing. The four-stoke outboard has proven to be reliable, quiet and smooth, and to deliver great performance. They give you more room inside the boat, and a better overall experience underway."
Bottom line – big power still rules, and horsepower will continue creeping upward as boats continue to grow larger, heavier, and more feature-rich.
Trend 3: The mid-market still represents the greatest volumes
Where big power remains a key driver of outboard sales, Nando Zucchi notes that "big power" is always a relative term. "It's exciting to walk down the docks at the Miami Boat Show and see these huge boats with a rack of 300s on the transom. But in terms of unit volumes, the 115 to 150 class is still the bread and butter," he says. "Is that big power? Yes, it is, because not long ago those same boats would more likely have had 75s or 90s on them. The trend is toward higher horsepower, and in every category."
"Our dollar sales are growing even faster than unit sales as we sell a greater volume of larger models"
Horsepower is also creeping upward for Souzhou Parsun Power Machine, which manufactures engines from 2.6hp-90hp under its Parsun branding and has plans to introduce a new 115hp model this year. "Our dollar sales are growing even faster than unit sales as we sell a greater volume of larger models," says Tom Yang, vice president of sales and marketing. "Our T60A, T75/85/90 two-stroke and F40/50/60 horsepower four-stroke EFI models have been particularly strong sellers. We see North America as a key opportunity, as they have the largest demand for middle and large horsepower outboards. We also see Asia and Europe as representing key opportunities for growth, as we can better satisfy their demands for small and middle range units."
In spite of the focus cast on its recent V6 launches, the importance of the mid-market is not lost on Suzuki, which manufactures no less than six different outboard models between 90hp-150hp. "In terms of volumes that's still very much the core of the market," notes Gus Blakely. "It's a key focus for us, which is why we're bringing out a new 150A which is based on our benchmark 200 and inherits a lot of its key features, including a new block, Lean Burn technology, an oxygen sensor and multi-stage induction for better acceleration and improved fuel economy."
The growth of the mid-range is an apparent worldwide trend. Chinese manufacturer Hidea Outboards has announced plans to expand its mid-range product offering this year with an all-new 130hp model, the first in a series of new engines that will allow it to compete more aggressively with Japanese builders like Yamaha, Honda and Tohatsu. In Europe, Selva competes with three models between 60hp-150hp in its XSR four-stroke line.
"The 115hp to 150hp segment is the largest market segment worldwide," says Jonathan Wang, sales manager for Hidea. "The 130hp model will provide the foundation for new engines of 90hp, 100hp, 115hp and 130hp, with additional engines coming in 2020. Our new factory, opened in 2018, is equipped with intelligent production lines to allow an annual production capacity of 100,000 units. Introducing 100hp-plus engines is an important milestone for us, because again that 115hp-150hp range is the largest market."
But it's a segment that outboard manufacturers need to approach with care, since although consumers buying these engines may want the same features found in larger outboards, they can be far more price-sensitive. Mike Rickey, senior manager for marine at American Honda Motor Company Inc, says consumers shopping for mid-range outboards are willing to pay for features that provide real perceived value. "It's something we look at constantly," says Rickey. "We work closely with our research and development people worldwide to try and determine what the customer is asking for, and then balance that with what we're offering in the market so that we don't deliver something that does everything, but costs twice as much as what the next guy is selling an engine for." Getting it right is key, he says, with the 150 representing "the sweet spot in the market, because it suits so many types of boats in so many segments."
Bottom line – while the large V6 and V8 powerplants may provide engine builders with the greatest profit margins, the big volumes still lie in the 115hp-150hp segments.
Trend 4: Connectivity has become key
Without question, connectivity is the new buzzword in marine power. Consumers expect their boats to operate like their cars, with all onboard systems working together harmoniously to provide a fully integrated user experience. More than that, they expect a unified ownership experience, so that a single call can take care of all their service needs just as it does for their SUV. As a result, the level of electronic sophistication in new outboards is growing very rapidly.
"To make connectivity applicable, it has to provide significant benefit to either the consumer, or the dealer. If it doesn't do that, then it's just kind of a gadget," says Mercury's John Pfeifer. "In terms of propulsion, the ability to harvest data for diagnostic purposes is huge. During an engine service, a technician plugs his laptop into the ECU and diagnoses how many hours have been run. They look at any error codes and what service work they need to do. That process might take 30 minutes. By comparison, on a connected system like Mercury's Vessel View Mobile a dealer can see all the data on the boat in real time and know exactly what they have to do before the customer even brings it in. When you multiply that time savings by 10 million or so boats in a given market, you can think about the productivity improvement it represents."
The added benefit, notes Pfeifer, is that the greater connectivity can extend the engine's life by promoting a more proactive service regime. The ability to prompt
owners with a push notification that their engine is due for scheduled maintenance can prevent accidental damage and premature wear – just as messages on a modern car's dashboard.
"As with any product, increased feature-rich technology inevitably adds to the cost. But the more important point is, does it create real value for the consumer?" asks Yamaha's Ben Speciale. "Does it make the product easier to use, like our HelmMaster systems, or does it provide better overall performance or allow the product to do things that it previously couldn't? Serious owners want technology to improve their experience and add real value by enabling the best boating experience without as much complexity."
As with automobiles, increased connectivity in outboards masks their greater sophistication by providing a simpler, more intuitive user experience. "We leverage our automotive platforms tremendously," says Honda's Mike Rickey. "We're just now launching an updated version of our V6 engines, which integrate additional technology from our automotive business. The mechanical side of those is being introduced now, while the drive-by-wire version is being introduced in mid-to-late summer. In terms of something that's more directly consumer-facing, all of our stuff is NMEA 2000-compatible. If somebody upgrades their electronics to this new protocol, we're able to provide a more seamless experience, the kind the consumer is looking for."
Bottom line – consumers expect a complete ownership experience, onboard and off. Outboard engine manufacturers face a challenging road ahead – meeting growing orders for more refined engines that boast greater user features, all while holding the line on pricing and fending off tougher competition every day. In other words, just another day at the office. Compared with the challenges they've overcome in the past 10 years, it's easy to understand why they're charging full speed ahead.
DIESEL OUTBOARDS MAKING AN IMPACT
Whilst the diesel engine has fallen out of favour with road users, high-performance technology has made the concept ideally suited for outboards.
The market for diesel outboards appears to be taking off, mainly because commercial users value the high torque, long range and low cost of overall ownership that a diesel engine provides. The military, most notably NATO, also operate a 'one fuel' policy where the low flammability of diesel prevents less risk in a war zone. In addition, diesel engines are more forgiving of low-quality fuel than highly-tuned petrol engines, so supplies are more readily available.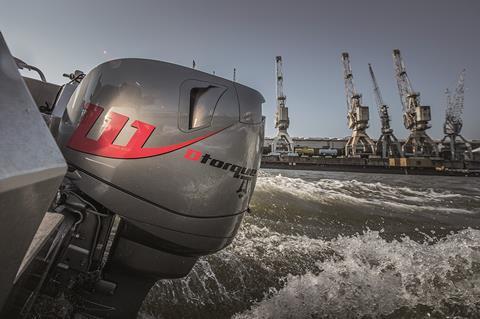 For leisure users, benefits also include much lower running costs and longer maintenance windows. For superyachts and cruise ships tasked with providing fast tenders for guests and crew, the ability to use diesel outboards means there are less costs due to fewer safety regulations.
Currently, there are three main players in the market, OXE, Neander Shark and COX. IBI was invited to tour UK-based Cox's new facility late last year, so we will be bringing you a more detailed feature on them in a later issue. We came away highly impressed with the sheer level of technical engineering that has gone into the powerhead and the support and manufacturing facilities that are bringing it to market. Thanks to starting with a blank canvas, Cox is now building a semi-automated plant that will eventually produce around 2,000 outboards per year by July 2019.
Small but powerful
At the small end of the outboard market is Neander Shark, developed from an idea in 2003 to create the world's first turbo-charged diesel motorcycle. The concept was then translated into a marine application and in 2009 Neander Shark GmbH was founded as a direct subsidiary of Neander Motors GmbH.
The company has so far successfully developed the Dtorque, which it claims delivers 50hp at the prop shaft from an 800cc twin cylinder powerhead. The real USP – reflected in the name – is the remarkable torque it delivers, said to be 111Nm at 2,500. This makes this modest horsepower ideal for a number of commercial applications. In addition, there is the low cost of ownership, with the expected lifespan more than double that of an equivalent four stroke gasoline outboard. Fuel consumption is also said to be much lower, typically burning less than 12 litres an hour at full throttle.
Dtorque's unique twin crankshaft design is also said to greatly reduce any vibration. Such has been the success of this engine that Yanmar has recently teamed up as the exclusive worldwide distributor whilst the Austrian manufacturer Steyr gained the contracts to build them from late 2017. A 100hp version is currently in development.
Modular technology
The three diesel outboard manufacturers appear to have niched into horsepower bands, with no overlap. Further up the scale at 150-200hp is OXE, a Swedish-based company that has utilised proven automotive technology and harnessed the high torque with a clever belt system instead of metal drive shafts. In 2012, Cimco Marine was founded as the developer and manufacturer of the OXE drive system in cooperation with General Motors and Marine Diesel of Sweden.
The main focus is commercial and military, so the unit has been designed on a modular concept. This has allowed the developers to use existing technology with all the parts easy to access and able to be changed without having to disassemble the whole unit. The power is transferred from the horizontally-mounted engine to the gearbox via a primary belt. A secondary belt takes it to the propeller. The belt arrangement allows for fully scalable torque transfer, so the operator can customise the engine between either high speed for leisure or high torque for commercial without affecting the hydrodynamics.
Quiet running
Positioned at the top end of the power band is UK-based Cox Powertrain, with its Formula 1 inspired diesel technology. Founded in 2008, Cox set about developing an advanced 300hp diesel outboard and launched the first production model at the 2018 Fort Lauderdale Boat Show, The CXO300 is once again based on proven technology, in this case 4 stroke V8 architecture. A great deal of effort has gone into making the powerhead as light and compact as possible, providing a package half the volume of an equivalent inboard diesel but with comparable fuel efficiency. This is said to be 25% better than an equivalent gasoline outboard, with 100% more torque at the crankshaft. The engine is also remarkably quiet and smoke free, and on a par with the noise levels from a leading Japanese four-stroke engine of similar power. The design, choice of materials and innovation won the CXO300 the Italian ADI Industry award in October 2018.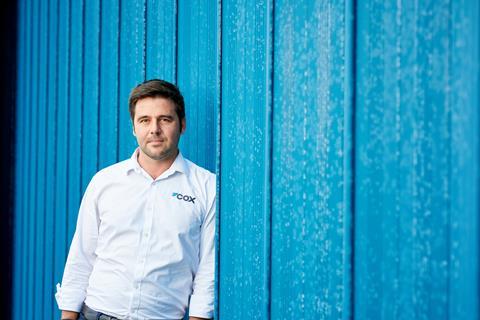 "One of the things we realised very early on is that however reliable an engine may be, the customer wants to know he has full service back up," said Joel Reid, Cox's global sales director. "We began to put an international dealer network into place before the engine was even finalised, so when we go into full production in July, we will have 40 distributors with 400 dealers covering 60 countries worldwide."