Watch consumers shopping at any boat show and you see the same scenario play out time and again. A couple or family approaches a boat and, after a few minutes of gazing at the exterior, they step aboard and sit down. If they get back up again quickly, it is almost a certainty they will promptly exit the boat and go look at another model. But if they smile, get comfortable and linger on the loungers, there's a much better chance that they will make the commitment to buy. This is a pattern that dealership salespeople watch for all around the world because when it comes to selling boats, it all starts and ends with the seats.
Comfortable seats that offer a luxurious perch with just the right amount of support are what turn prospective boaters into boat owners. And as boaters begin to age, those comfy seats are what keep them out on the water for years to come. At the most basic level, comfortable seats mean good times afloat, while poor seating almost guarantees that neither family nor friends will have much enthusiasm for another ride offshore. This is precisely why seating has become such a critically important element in modern boat design.
New opportunities
If you feel like you're seeing more and more seats at marine equipment trade shows these days, you're right. With a growing number of seat manufacturers competing for coveted OEM contracts and an expanding global aftermarket, this is one industry segment that has grown increasingly competitive over the last several years. That's because new technologies from CAD to 3D printing have opened the door to a deluge of new innovations in seating. From lightweight and compact shock-mitigating seat bases that absorb the pounding of the waves, to ergonomic designs that eliminate the aches and fatigue that follow hours in the pilot seat, today's boatbuilders are able to offer their customers unprecedented levels of comfort and refinement. New varieties of upholstery and foam seat cushions enhance durability, reduce mildew concerns and reduce production costs for boatbuilders in ways that were impossible just a few years ago. And for manufacturers who want to offer their customers something that truly goes the extra mile, seats with all sorts of enhanced capabilities and functionality – from helm seats with integrated controls to multi-function furniture that enhances any boat's capabilities – provide builders with still further opportunities to differentiate their brand image.
From the basic to the high-tech, marine seating continues to evolve with truly forward-thinking designs and innovation. Let's take a closer look.
Built for comfort
Following the path blazed by automakers and manufacturers of high-end office furniture, marine seating has come of age with a growing focus on ergonomics.
The shift toward greater seat comfort has been led by the luxury yacht segment. Long accustomed to enjoying ergonomically-designed seating in their vehicles and offices, yacht buyers were among the first to begin demanding greater comfort on the water. Yacht builders were quick to respond, with a view to providing owners with the utmost comfort on long voyages.
As the manufacturer of Recaro marine seating, Bemmel, Netherlands-based Sun Marine Seats BV enjoys the position of being able to leverage the German seat builder's extensive heritage of developing ergonomic seating for professional auto racing, including Formula One competition. "We produce 11 models of Recaro marine seats. The seat and the backrest come from Recaro, and we create everything else specifically for maritime use – the arm rests, the pedestal, the slides and the upholstery," explains managing director Victor Willems. "Recaro has established a tremendous reputation for its ergonomic seating used in professional racing and we bring that level of comfort and support to the marine marketplace. Seats like our Recaro Caribbean, for example, have a wide range of height and tilt functions, including a full range of lumbar and thigh support so that comfort and proper ergonomics are assured. All of the adjustments are electric, so it is easy for the owner to set it exactly as they wish."
Willems notes that other seat models in the company's lineup use additional ergonomic design elements and materials to provide that delicate balance between firm support and pillowy comfort. "Many of the seats include lumbar support or seat cushion extension for added thigh support," says Willems. "Depending on the application other seats may include features like contoured shoulder supports to relieve muscle tension."
Bergamo, Italy-based Besenzoni Spa adopts a technological approach to designing its extensive line of helm seats, which are created with long-range navigation in mind. Serving yacht builders in 59 countries, the firm sells a broad range of ergonomically-correct helm seats as well as a growing range of fully custom seats from its newly-created Unica unique yacht accessories division. "Our pilot seats are supplied with side padding of the backrest and of the seat for a more ergonomic solution," says CEO Giorgio Besenzoni. "Of course, they provide a wide range of movements and adjustments that ensure a comfortable driving position while preserving correct posture. This includes ergonomic seat bottoms, backrest rake adjustment, lumbar supports, seat height and fore/aft position adjustments, fully adjustable foot rests and more, to ensure the most comfortable experience possible on extended voyages."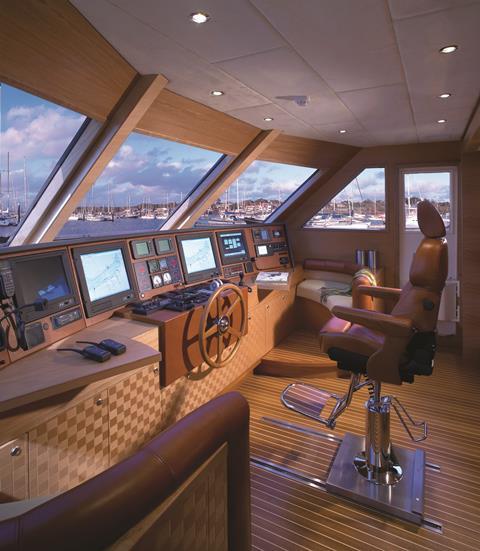 Smaller boats, bigger challenges
While luxury yachts may have broken ground for ergonomic seating in the recreational boating industry, some of the strongest activity recently has been taking place in the small boat segment. The more restricted confines of smaller fishing boats and runabouts has historically favoured seats with the smallest possible footprint in order to preserve interior space. The unfortunate side-effect of this tendency is that the combination of smaller seats and limited cockpit depth tends to encourage less than optimal seating positions, ultimately leading to occupant fatigue and the potential risk of injury. Growing awareness of occupant fatigue issues has sparked a movement toward creating more ergonomically-correct seats that still fit within the confines of a small boat cockpit.
Manitouwoc, Wisconsin-based Dowco Inc raised plenty of eyebrows at the 2018 IBEX Show with the company introduced its new Cruise Air seating line, which features a uniquely adjustable, ergonomic backrest designed specifically to protect operators of smaller fishing boats against back strain. Internal bladders within the seat cushion and back cushion inflate with air to provide additional support where it's needed most. "This is a significant market segment that's been entirely ignored," says Dowco's marine marketing manager, Angela Lettenberger. "If you're a serious angler who runs your boat on rougher waters or on bigger waterbodies, you know how it feels at the end of the day when your back aches. That was our prime consideration in designing this seat. Anglers in smaller fishing boats tend to lean forward in the seat, and particularly at the helm where drivers may be following a GPS or monitoring a depthfinder while they move from one spot to the next.
"One of the benefits of the Cruise Air design is that the internal bladder system extends forward to support the back so the occupant can maintain a natural, upright posture, which greatly reduces fatigue and the risk of back strain."
Supported by testimonials from professional anglers who spend more than 200 days on the water every year, Dowco's Cruise Air seat line appears to have caught the attention of its intended market. Lettenberger notes that the company has signed a non-exclusive supply deal with American retail giant Bass Pro Shops that will see the company offer the Cruise Air product on its high-end Nitro brand of fibreglass tournament bass boats. "We work with a number of pro fishermen and we spent a lot of time talking with them about what they experience on the water every day," says Lettenberger. "After those consultations we took a step back and looked at what's available in the marketplace and where the existing products were lacking, and that became the one area we really honed in on as a differentiating feature."
Another leading proponent of ergonomic seating designs for smaller fishing boats is Dallas, Texas-based Tempress Products. The company, which sells both as an OEM to major boat builders and as an aftermarket supplier through an extensive distribution network, also enjoys a strong profile within the recreational fishing community through its sponsorship of several big-name pro anglers. "The biggest change for our market is trying to migrate the boat builder's primary focus away from price and aesthetics to focus more on support and functionality, because that's what the end-users are increasingly asking for," says Tempress CEO, Mark Lozelle. "We make primarily fold-down pedestal seating for small to mid-sized fibreglass and aluminum fishing boats, and the reality is that it is a price-sensitive market. But as more ergonomic seating becomes commonplace in automobiles and our homes, people have come to expect it in their boats. We address that with our ProBax Orthopedic seating and once a person sits in it, quite honestly there's just no going back. The pelvis must be oriented properly to eliminate postural stress and allow proper body alignment that restores the natural S-shaped spinal curve which is essential when trying to absorb impact from repetitive waves and boat chop. Someone sitting in a boat for eight hours at a stretch is no different than someone sitting in an office chair for that long. Proper ergonomics make an enormous difference in how you feel at the end of the day."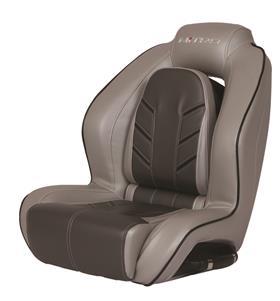 Lozelle notes interest in the ProBax Orthopedic seats is growing, and particularly among builders of larger boats that may use the seat in combination with a shock-mitigating base. "Even if you have a suspension seat, if you're not sitting with correct posture and maintaining that proper S-curve, or you're not sitting with the proper support, you're going to be uncomfortable at the end of the day. If you keep doing it long enough, you will hurt yourself," he says. "The job of the ProBax seat is to start you in the proper position and if combined with a good shock-mitigating base underneath it, then you're going to be much better off. We need the boat builder to move beyond simply how the seat looks as we see consumers changing their focus to support and comfort as a primary part of the decision making process."
Trend 1: Growing demand for ergonomic designs
The combination of an aging population and consumer expectation – driven by the widespread adoption of ergonomic seat designs in automotive seats and office furniture – is fueling demand for similar types of seating in boats of all sizes and prices.
Trend 2: In for the long haul
The luxury yacht segment pioneered the adoption of ergonomic seating, and continue to lead the industry today. Extended time at the helm while navigating over long distances is driving increased demand for orthopaedically-correct designs to fend off occupant fatigue.
Trend 3: Small fishing boats are taking up the charge
With their more restricted interior space and lower cockpit depth, along with anglers' tendency to lean forward while driving in order to simultaneously monitor a GPS or fishfinder, demand for ergonomic seating in small fishing boats is growing quickly.
The butt stops here
No other element of a marine seat has more impact on comfort than the cushion. But in today's world, the humble foam slab has gone high-tech
We tend to not even give it a second thought, but the foam cushions in a typical boat seat represent some of the most highly-engineered and technologically-advanced components in a modern boat.
Foam is truly amazing stuff. Used in a harsh marine environment, it's exposed to high humidity, extreme temperatures, intense sunlight, high levels of UV radiation, salt spray, the drying effects of near-continuous breezes, occasional soakings and all matter of other exposure-related perils.
It is expected to last for years while receiving no care whatsoever, all the while providing that ideal balance between firm support and soft, cushiony comfort. Not just that, but provide that optimal comfort for everyone on board regardless of their size and weight, from the smallest children to the largest adults.
Marine seating has historically used cut foam as the basis of its seat cushions, including newer, open-cell reticulated foams like Dri-Fast that are uniquely designed to allow moisture to drain through the seats so they will dry more quickly. More often than not, the cushion will be formulated with one or more types of antimicrobial agent to discourage mold and mildew growth for longer service life.
While cut foam is still widely used in a diverse number of seating applications, molded foam cushions have become increasingly popular with many seat manufacturers – particularly in the construction of intricate helm seats. "Molded foam allows you to create very succinct, three-dimensional curves in your products," says Mark Lozelle, CEO for Dallas, Texas-based Tempress Products. "Our molded foam packs come with Velcro already integrated into the product to facilitate assembly. It comes with the panels already in it as well, so it becomes a lot more efficient to produce, and there's far greater consistency. We've migrated more to an automotive model, where we've moved increasingly from cut foam to molded foam which improves durability, improves support, reduces the possibility of water retention and improves manufacturing efficiencies at the production line."
Finding the perfect balance
Whether seat cushions are formed with cut or molded foams, achieving just the right balance between comfort and support remains a challenge for seat manufacturers. It's a particularly difficult challenge on a family boat, where seat occupants can range widely in weight. "We've worked with foams of different densities to attain variable levels of compression," says Danny Sweeney, sales and marketing director for Nixa, Missouri-based Springfield Marine. "You have a lighter foam on the top that goes into a denser foam below. It's not shock-mitigation or weight-dampening, but it is a way to provide a progressive level of cushioning. In the case of molded foam we can change the density by different pressures that we put in. And in the case of cut foam, we have different layers that we can put in."
For Sarasota, Florida-based Premier Performance Interiors, variable-density cushions are an essential component in the seats the company manufactures for use in high speed, offshore performance boats. Apart from providing occupant safety as boats race through a variety of sea states, the cushions must also provide considerable support from lateral stresses while keeping the occupant comfortable at all times. "We've experimented with a lot of different foams and foam configurations," says partner Jim Cowan. "Where some manufacturers use a single piece of foam in the seat cushion, in some cases we use up to four different types depending on the boat and its intended use. What I mean by that is the foam used in the seat cushions of a small inshore fishing boat will be different from that used in a 22-foot center console, for example, and different again from what goes into a racing catamaran. The ride will be different for each because of the water they're operating in, so the demands on the seat cushion will also vary."
What's next?
Regardless of which marine market it finds its way into, foam seat cushions that contain anti-microbial biocides must meet the same environmental regulatory standards as their companion upholstery coverings, such as Biocide Product Regulation 528/2012 in the EU and Proposition 69 in California. "To be effective the inhibitors have to be built into the foam as well as the vinyl covering," explains Sweeney. "There's just no sense treating one and not the other. The cushion will also need to be sewn together with the proper thread, so there is no weak link where mildew can begin to take hold."
With additional environmental regulations anticipated in the years ahead, foam manufacturers have invested deeply in R&D in order to ensure future products remain compliant. This includes exploring the use of alternate materials in a bid to make foam cushions more eco-friendly and appealing to younger, more socially-conscious buyers. Canadian boat builder Campion Marine, for example, first announced its investigation of seat cushions using a soy-based foam in 2012 as part of a long-term commitment toward greater environmental sustainability.
While foam in one form or another will remain an essential component in the marine seating market for years to come, seating manufacturers are also keeping a close eye on innovations emerging in other sectors. This includes the growing use of inflatable air bladders, which have begun to replace foam cushions altogether in the aviation industry. Although more expensive to manufacture than traditional foam-based seats, new alternatives with inflatable bladder cores weigh significantly less, allowing aircraft which use them to achieve greater fuel economy and lower operating costs. Because weight is less of a factor in marine applications, similar styles of automotive seating which use gel-filled bladders in lieu of foam may also one day find a niche in high-end marine seating.
Trend 1: More widespread adoption of moulded foam cushions
Although more expensive to produce, molded foam cushions provide greater manufacturing efficiencies that traditional cut foam, while improving product consistency. They also work well with the complex curves found in many contemporary seat designs.
Trend 2: Seat cushions are becoming more complex
An increased emphasis on family boating will drive the adoption of variable-density cushions that provide equal comfort to occupants of all ages and sizes.
Trend 3: Foam alternatives could gain traction
While foams continue to evolve, alternatives emerging in other market sectors could find their way into some marine applications.
More than meets the eye
Added functionality in the form of joysticks, power adjustments and integrated lighting improve the occupant's experience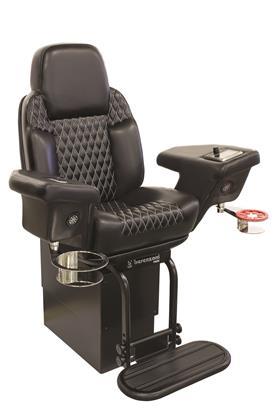 It needs to look good, it needs to feel good, it needs to survive a harsh maritime climate. As if there weren't enough demands placed on marine seating, increasingly we're seeing growing demand for greater functionality.
From helm seats in the largest luxury yachts to bench seats on pontoon and watersports boats, buyers are increasingly looking for more utility. It's all about providing boat owners with the greatest level of comfort and convenience possible within sometimes confined spaces.
Europe – focus on functionality
Some level of customisation has always been expected among OEMs working in the luxury yacht segment. Among seat manufacturers, one clear trend is mounting requests for integrated vessel controls. "We receive more and more requests for the installation of boat controls and joysticks on our helm seats, it is becoming quite common," says Giorgio Besenzoni, CEO for Bergamo, Italy-based Besenzoni SpA. "It's normally a request that comes from shipyards for seats installed in yachts longer than 60 feet, but every one of our helm seats can be customized and enhanced, including those for use on smaller boats."
The integration of engine binnacles and joystick controls is only the start for manufacturers of premium helm seats, which can be fitted with virtually any type of add-ons imaginable. "Client demands for accessories such as integrated USB plugs, storage places for mobile phones, and mounting pads for laptop computers are becoming more frequent, particularly from Italian and North European boat builders," says Besenzoni.
Perimeter lights for added safety at night and Integrated temperature controls are also popular features, he adds, along with beverage holders and integral storage compartments for small personal items like sunglasses. "They are small things, perhaps, but they bring increased everyday functionality to the seat."
North America – focus on comfort
"In Europe we receive requests for what we term super-equipped seats, complete with LED courtesy lights and other amenities, while US shipyards are generally more focused on occupant comfort," says Besenzoni.
That emphasis on comfort is particularly evident in the booming watersports market, where purpose-built tow boats for wakeboarding, wake surfing and water skiing tend to add functionality in the form of integrated seat heaters. They're particularly appreciated in the northern US and Canada, where waters can be cold even in mid-summer. "Those are expensive boats so price sensitivity isn't as much of an issue, and the buyers are passionate about water sports so they demand the very best," says Danny Sweeny, director of sales and marketing for Nixa, Missouri-based Springfield Marine. "Seating in these boats will typically have full electronic adjustment just like a car seat, and integrated seat heaters in many cases. Some of the builders even add heaters in the steering wheel for the full effect."
In other market segments such as the surging pontoon market, boat manufacturers seek to differentiate their products with greater interior space and utility with seats that can convert to form tables, sun pads or bar units. "As component suppliers we now have tools that we didn't have access to 10 years ago, like CAD design and testing facilities and multiple IPs that we can leverage," says Jeff Wysong, vice president of sales for Elkhart, Indiana-based Lippert Components. "The boatbuilders know what their customers want, and it's our job to deliver that."
Of particular concern to seat manufacturers serving the small boat market is the challenge of adding capability without adding weight. "We're putting more content in boats than we ever have, so that's a bit of a concern," says Wysong. "People want integrated courtesy lights, they want stereo speakers in the seat bases. A lot of the pontoon furniture, for example, is built on a roto-plastic substrate that not only supports the furniture, but creates storage spaces beneath, houses stereo speakers and floor lights. The trick is engineering that so it doesn't add significant weight."
"Siri, recline five degrees"
While marine seating has undergone multitude changes over time, increased utility and functionality have remained constants through this evolution.
Modern technology, including 3D printing and greater integration of electronic controls, can be expected to power future innovations. With seating being the primary interface between the boat and its occupants, it represents a clear opportunity for boatbuilders to further brand distinctions. Indeed, in a world where we increasingly control our homes and automobiles through voice commands, the days of telling Siri to recline your seat and raise it up just a bit are probably closer than we think.
Trend 1: Yacht helm seats will grow increasingly connected
In a market where exquisite comfort on long voyages is a given, luxury yacht helm seats will continue to integrate controls for added convenience.
Trend 2: Small boat seating will emphasise comfort and utility
Innovative, space-saving seat designs that convert to table tops, bar units or sun pads will continue to allow smaller boats to make more use of their limited deck space.
Trend 3: Greater integration of power adjustments
Power seat and pedestal adjustments, including toggle switches to control recline and lumbar supports, will grow increasingly common as boatbuilders look to differentiate their products in a competitive market.