In the February/March issue of IBI, Craig Ritchie takes an in-depth look at the latest trends in the Outboard Engine segment – an area of fast-paced innovation and one of the brightest stars in the global leisure marine business with unit sales up some 30% over the last ten years.  In this preview of the full report, Ritchie reviews developments in the electric outboard sector, where cutting-edge technology is carving out an ever-bigger niche in a highly competitive market
Relentless developments in the area of battery technology continue to support slow but consistent growth in the adoption of electric outboards as primary power sources, and particularly in the small to mid-range power categories. Driven by factors such as growing restrictions on the use of internal combustion engines on environmentally sensitive waterways and a wider interest in green technology overall, electric motors have gained increased acceptance. Helping to propel this change are technological advancements that provide electric motors with competitive advantages that go beyond a reduced carbon footprint.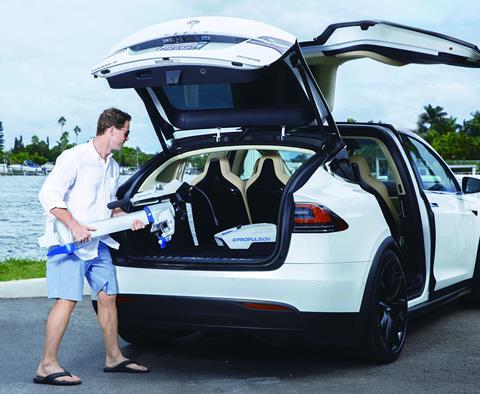 TOP TRENDS IN ELECTRIC OUTBOARDS
Beyond eco considerations, other benefits are becoming important drivers for consumer demand: lighter weight, eliminating the need for fuel – and thus fumes, quieter operation, and reduced maintenance
Improved ability to power larger boats at faster speeds – enough for wakeboarding and waterskiing in some applications
Fast-developing advances in battery technology
Hydro-generation of electricity from prop rotation on sailboats
User-adjustable, variable shaft length
Connectivity to smartphone apps
Greater electronic integration (including wireless) with other onboard equipment – chartplotters, autopilot, GPS anchoring, etc.
Electric engines currently account for about 1.3% of the total outboard market, similar to the penetration of electric cars in the automotive sector
Electric engines still represent a small proportion of the total outboard market – somewhere around 1.3% according to Torqeedo CEO and founder, Dr Christoph Ballin. That figure is comparable to the automotive industry, where electric cars now represent close to 2.0% of global auto sales. "The majority of that share is represented by outboard motors, as opposed to inboard systems," says Ballin. "In boating there are numerous niches and the reality is that at least right now, electric mobility is simply not suitable for every segment. While you will find powerful boats with electric inboards of up to a hundred kilowatts with which you can waterski, the majority of the market today is represented by small horsepower outboards purchased through aftermarket retail channels to replace small gasoline outboards."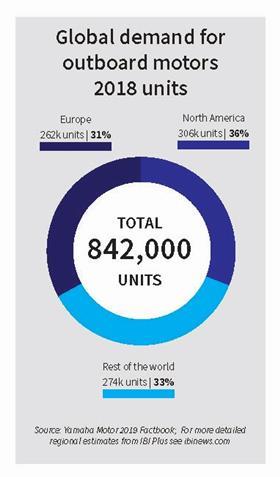 Electric's market share is expected to grow in the coming years as further technological developments enhance performance and consumer tastes continue to favour products with lower greenhouse gas emissions and lower overall ecological impact.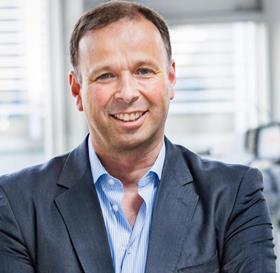 Practical considerations are also beginning to weigh into sales, says Ballin, with today's buyers just as likely to be swayed toward purchasing an electric outboard as a result of factors like lighter weight and the convenience of not having to repeatedly buy fuel and carry it to the boat. "The ease of handling and reduced maintenance requirement are important drivers," says Ballin. "If you want to equip a racing sailboat with the lightest option possible, for example, that will be an electric. And then in the large sailing yacht segment, it is to the point that you don't need your generator because you can harvest lots of energy from hydro generation turning your prop while you're sailing. And so, you have less vibration, less noise, less fumes, lighter weight and far greater convenience. There are a variety of motivations for consumers to go electric beyond the original environmental considerations."
For Changzhou, China-based Golden Motor Technology, the adoption of new technologies represents a key pillar in the company's marketing strategy. Its Sport and Leisure series of electric outboard motors include a range of innovative features which have nothing to do with the traditional eco-related sales points. These include innovations such as connectivity to a companion smartphone app to display operational data, along with a user-adjustable variable shaft length that can be lengthened or shortened as required – eliminating the need to manufacture and warehouse motors of different shaft lengths.
Founded in 2006, the company currently boasts a dealer network spanning 60 countries. Mercy Meng, who oversees trade sales for Golden Motor, says the company's OEM business is growing. "We offer open support for any 48-volt DC battery system," she says. "This allows customers to choose local battery suppliers."
The comparatively maintenance-free attributes of electric power have also proven an effective competitive advantage for Moosburg, Austria-based AquaWatt Green Marine Technologies, which manufactures a range of electric outboards from 4kW to 50kW. The company, located on the Wörthersee, has been building electric motors since 1990 and today enjoys global distribution, with customers in Germany, Norway, Sweden, Greece, India, Mauritius, Singapore, Australia and New Zealand.
"There are [many] motivations for consumers to go electric beyond the original environmental considerations."

Dr. Christoph Ballin
Founder and owner Dieter Seebacher says the perception that electric motors are only for lightweight, slow-moving boats is a myth. "Lakes and rivers in Austria are our drinking water, so the use of fuel boats has been prohibited for 50 years," says Seebacher. "In the past electric boats had less power, and were very slow, but, today it is very different. Now we can go water skiing or wakeboarding. We have one commercial customer located on a lake in Austria, 2,000 metres high in the mountains, using one of our motors to power a 50-tonne raft with a restaurant on it. He moves it around the lake with just the one motor, way up in the middle of the Alps."
AquaWatt sells four lines of electric outboard, with the cowling, mid-section and lower unit of each intentionally styled to look like a comparable gasoline outboard – including a polished stainless steel propeller. "It looks like a boat motor, not like a toy," says Seebacher. "The customer looks at this and it is familiar, the appearance is more what they are used to seeing so they have more confidence to power larger boats, or use it in saltwater. Then they learn there is no gasoline, there is no need to handle smelly fuel or to worry about polluting the water. The customer has the same capabilities they do with a fuel motor but less fuss and problems, so it is an enticing proposition."
While developments in motors have generated consumer interest in electric outboards, the other key factor supporting the segment is significant developments in battery technology that greatly improve practicality – along with greater awareness of these developments, thanks to extensive media coverage of parallel innovations in electric automobiles.
The challenge for motor manufacturers, according to e-Propulsion marketing manager Chandler Xu, lies in educating consumers about the differences between new lithium-ion batteries and the older lead acid cells they're familiar with. Many prospective customers initially base published data on battery performance on parameters associated with the older technology, he says. "There are major changes in the batteries starting with the fact that the lithium ion batteries are 48 volts," he says. "Old lead acid batteries are normally 12 volts, so the customer thinks they need four batteries in serial. They don't understand that's not what they need." (continues below)
Advances in Battery Technology
Advances in electric propulsion have been made possible in large part by significant progress in battery technology, and specifically in the development of lithium-ion cells. Compared against traditional Absorbent Glass Mat (AGM) batteries, lithium-ion provides significantly improved run times, steady power output with no voltage loss as the battery discharges, and a battery that is lighter and more compact than what would be required from AGM cells in order to deliver comparable performance.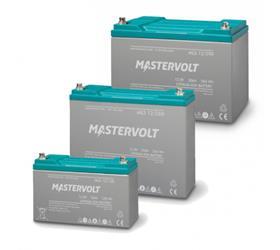 Their unique ability to access most of a given battery's charge is what gives lithium-ion batteries a clear edge when powering electric motors, and is what gives today's propulsion systems such vastly improved run times. "If you look at a standard 12-volt AGM battery, the actual voltage when fully charged is somewhere around 14.1 volts," says Dave Maryanov, marketing manager for Power Products Inc. "By the time it it's depleted the voltage will have dropped to around 10.3 volts. By about 50% depth of discharge, you start seeing performance declines for equipment connected to the battery, meaning your electric motor is losing power. But with a lithium ion battery, you don't see that begin to happen until you've reached 85% depth of discharge, so that's a huge step. That's what gives the lithium ion battery maximum performance for a much longer time than what you can get from an AGM."
One disadvantage to lithium-ion batteries is their higher cost. However, battery manufacturers argue that this is offset by the lithium-ion cell having a much longer life cycle. Where a traditional battery might deliver anywhere from 500 to 900 charging cycles before requiring replacement, a lithium-Ion battery can provide a service life of 3,000 to 5,000 charging cycles before it needs to be replaced. "In spite of their higher initial cost, lithium-ion batteries provide superior ROI by offering up to six times more charging cycles than a traditional battery, and thereby requiring less frequent replacement," says Donald Hasler, strategic account manager with Xantrex. Beyond representing a financial savings over the life of the battery, he notes that less frequent replacement also means less waste material winding up in recycling depots and landfills.
Xu notes that once initial misgivings about battery capacity are overcome, the choice to purchase an electric outboard becomes easy. "Nobody wants to deal with fuel, nobody wants to get the smell on their hands or on their clothes or in their car trunk," he says. "You don't have that with an electric motor and consumers like that. It is also much lighter weight, so it is easier for older people or smaller people to handle."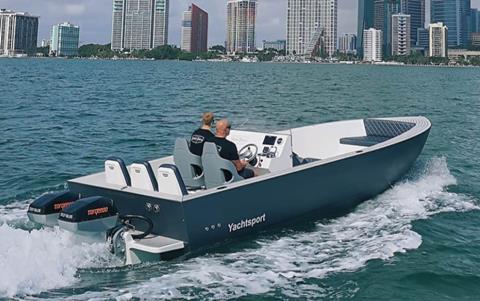 Practical considerations shape not only today's buyers of electric motors, but the future path for product development and market growth. For Torqeedo's Dr Christoph Ballin, market focus is clearly linked to the capabilities of the current technology, yet with an eye to long-term evolution. "If someone were to come to us and say electric propulsion is a great idea, let's put it on a freshwater bass boat or a saltwater fishing boat I would have to be honest and say I don't think it's going to happen right now because the technology is not yet there," says Ballin.
"On the other hand if we look at sailboats, I think we can say with absolute certainty that today, electric propulsion is the superior alternative. It is the same for tenders, where electric presents so many advantages. So we focus on those market segments. But technology is evolving rapidly and if we want to be ready to compete in other markets, we have to start taking some baby steps now or we won't be able to catch up. We are committed to leading the market, not following it."
The Fishing Market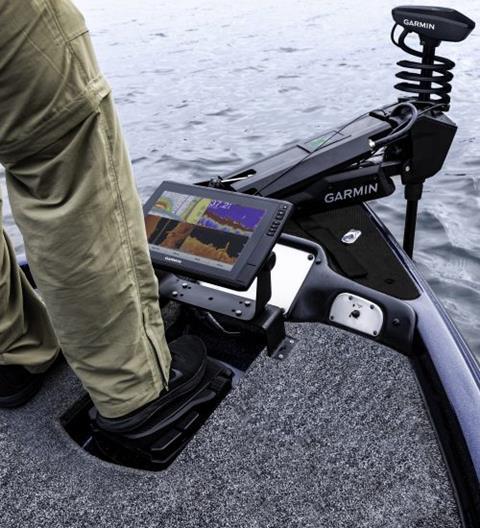 While electric motors have only recently begun to make serious inroads into the primary propulsion sector, anglers have widely used them as secondary trolling or positioning motors for decades, with the first commercial models coming to market prior to the second world war. Manufacturers competing in this original electric motor market have also been leveraging significant technological advancements in the quest to gain market share. Much of that new technology focuses on increased levels of integration with other onboard equipment, including GPS and chartplotters. In 2019, Garmin and Lowrance – both newcomers to the sector – won DAME awards with their focus on connectivity.
Garmin's Force electric motor features wireless integration with the company's chartplotters, a built-in autopilot and an anchor lock capability that enables anglers to keep the boat in a static position with automatic correction for wind, current or wakes from passing boats. Primary control is through a wireless foot pedal, while a floating remote control offers point-and-go gesture steering. An integrated CHIRP transducer works with the company's GPSMAP 8400/8600xsv and ECHOMAP Ultra models.
The Ghost motor from Lowrance uses an advanced propulsion technology for silent operation with more thrust and greater run times. It also features integration with the company's HDS Live, HDS Carbon and Elite Ti2 displays, along with a GPS anchoring capability to hold boats in position and a user-configurable control pedal with fly-by-wire steering. A choice of nose cones on the motor's lower unit allows buyers to select from integrated downscan or 3-in-1 Active Imaging transducers.
Downloads
Click link to download and view these files
Other | PDF, Size 1.67 mb