Net sales in the first quarter were up 65.7% to US$74.6m
Twin Disc, the Wisconsin-based manufacturer of marine and heavy-duty off-highway power transmission equipment, reported fiscal 2019 Q1 net sales increased 65.7% over the same period last year on sales of US$74.6m.
The company said in a statement that the increase was primarily due to the contribution from the Veth Propulsion acquisition earlier this year, improved demand for the company's 8500 series transmission systems and aftermarket components from North American fracking customers, and improved activity in the global commercial marine market.
"We are encouraged with the start of the new fiscal year as a result of the favourable contribution of Veth Propulsion and improving global demand across many of our end markets," says president and CEO John Batten in a statement. "Throughout the year, we are focused on fully integrating Veth into our organization and supporting their growth plans by accelerating sales and marketing opportunities."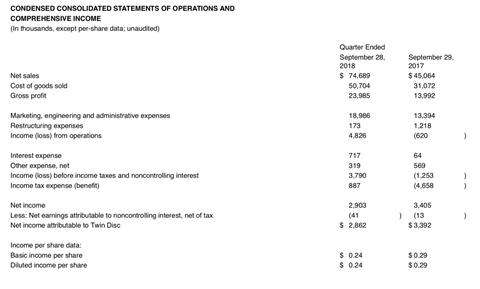 Gross profit for the fiscal 2019 first quarter was 32.1%, an increase of 110-basis point in gross profit percent, due primarily to higher volumes, a more profitable mix of revenues and improved operating efficiencies.
Twin Disc, celebrating its 100th anniversary this year, is best known for its marine transmissions, azimuth drives, surface drives, propellers and boat management systems, as well as power-shift transmissions, hydraulic torque converters, power take-offs, industrial clutches and control systems. The company sells its products to customers primarily in the pleasure craft, commercial and military marine markets, as well as in the energy and natural resources, government and industrial markets.
In June, it acquired Veth, a 65-year old provider of propulsion and power control products based in Papendrecht, Netherlands.