Marina Projects is working on a major new facility with large superyacht berths on Manoel Island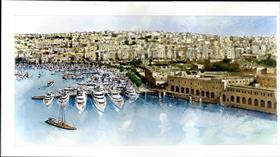 UK-headquartered Marina Projects Ltd has confirmed that it is involved in the large Maltese Manoel Island redevelopment project as marina designer. The project has been ongoing for some years with MIDI Plc, the consortium overseeing the huge €400m mixed-use project, which is one of the largest in the Mediterranean.
Marina Projects has been involved in the Manoel Island masterplan since 2016, working initially with Foster + Partners on the concept design and more recently being directly appointed by MIDI Plc to develop the masterplan proposals and detail design.
While the planning is still underway, it is understood that the Manoel Island Marina will offer around 320 berths for small craft up to superyachts of 100m (328ft). The investment in the marine element of the project is estimated at €25m, with construction likely to start over the next year or so.
Marina Projects initially produced the concept design and that included assessment of the site constraints and opportunities, and a scope of market research. A particular focus was considering the superyacht market and the application of Marina Projects' database of fleet tracking information.
Simon Goodhead, senior project manager, comments: "We track a significant proportion of the world superyacht fleet and are able to provide robust and bankable data on the location, mix of vessels, frequency/duration of visits and seasonality. This data has significantly informed the masterplan proposals and marina positioning and provides a sound basis to support the client's investment decisions."
The current phase of masterplan evolution and detailed design will cover all the marina elements and lead to the specification and procurement process working closely with MIDI's wider professional team, including leading international architects, Foster + Partners.
A key focus of the scope of work is the integration of the marina and marine-related elements. This comprises evolving the landside masterplan, with important considerations being the integration with the waterfront proposals and recognising the existing heritage that Manoel Island is famous for.
Mike Ward, managing director of Marina Projects Ltd, said: "Although we have been working on the Manoel Island project since 2016, it is only now we can reveal the full extent of our involvement on this very exciting and unique project on what is for various reasons a challenging site, but one with huge potential."
"There is a real opportunity," he added, "to position Manoel Island Marina as the leading marina destination in Malta for both local boaters and superyachts. We are delighted to have been involved from the outset and it is a pleasure working alongside MIDI Plc to help deliver their vision."