Visitors to the Ft Lauderdale show are witnessing unprecedented levels of security
Visitors to the 2018 Fort Lauderdale International Boat Show (FLIBS) are witnessing heightened security of unprecedented levels that includes military, local and federal law enforcement teams.
"You're not imagining it," one local police Sergeant told IBI, "and for all of this that you see, there is almost as much that you won't see."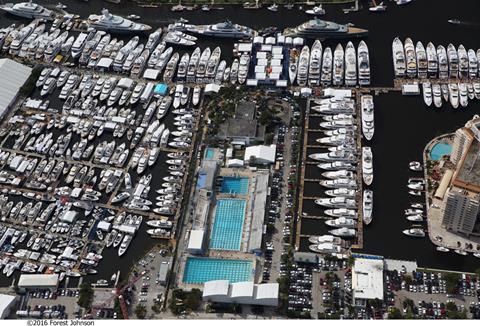 Attendees and exhibitors are passing through metal detection check points and are subjected to bag searches; uniformed patrol officers, US Coast Guard and local SWAT teams in full military tactical gear and heavy arms, and even bomb-sniffing dogs are maintaining a very visible presence throughout the show.
The officer, who spoke to IBI on conditions of anonymity, said recent mass casualty incidents in the US and abroad led show promoters and local officials to step-up security.
"We have thousands of people here from all over the world; dignitaries, celebrities and literally tens-of-billions-of-dollars of boats and equipment. No one is taking any chances," the Sergeant said.
With the exception of the security search upon entry to the show, the elevated security, while visible, has been unobtrusive, and show goers have been seen engaging the security teams in conversation.
Calls from IBI to an official spokesperson for both the Fort Lauderdale Police Department and the Marine Industries Association of South Florida were not returned by close of business Thursday.