Tariff increases, demands for US manufacturers to leave China cap wild weekend of trade rhetoric
The National Marine Manufacturers Association (NMMA) is appealing to Washington to return to the negotiating table with China in the wake of recent escalations in the ongoing trade war between the world's two largest economies.
The latest round in the ongoing trade dispute ratcheted sharply upward as US president Donald Trump took to Twitter on Friday afternoon demanding US manufacturers close overseas plants and return to manufacturing in the United States.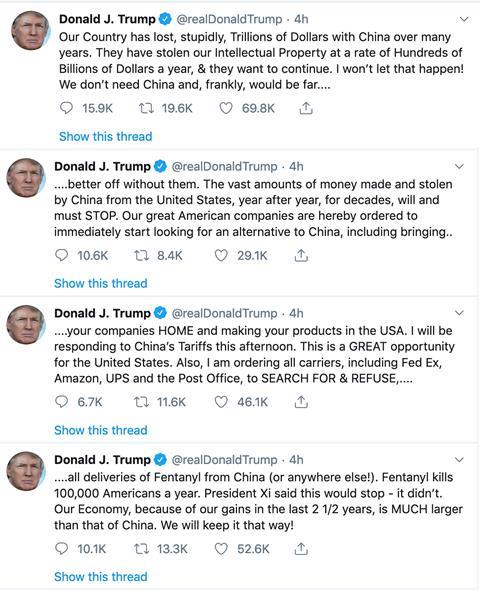 "Our country has lost, stupidly, trillions of dollars with China over many years. They have stolen our intellectual property at a rate of hundreds of billions of dollars a year, & they want to continue. I won't let that happen! We don't need China and, frankly, would be far better off without them," tweeted Trump. "Our great American companies are hereby ordered to immediately start looking for an alternative to China, including bringing your companies HOME and making your products in the USA."
Trump's afternoon tweets – made in response to new retaliatory tariffs unveiled by China against more than US$75 bn on American-made goods including crude oil and automobiles – were followed by additional tweets indicating that the US will boost tariffs on $300 bn worth of goods included in Section 301 List 4A from 10% to 15% effective September 1. Trump also said tariffs on a further $250 bn of Chinese goods identified under Section 301 Lists 1, 2, and 3 will increase from 25% to 30% effective October 1.
Nicole Vasilaros, NMMA senior vice president of government and legal affairs, called for the president to cool the evolving trade dispute and return to the negotiating table with China. "Many products that marine manufacturers need to remain competitive here at home and abroad are nearly impossible to obtain domestically or outside of China," said Vasilaros. "Increasing the cost of doing business for the 35,000 businesses our industry supports only jeopardizes the health of our industry and the entire American economy. We urge president Trump and trade officials to cease the whirlwind of tariffs, return to the negotiating table, and a deliver a strong, sustainable trade deal that puts American workers and job creators first."
Friday was a tough day for Trump, with news of Beijing's retaliatory tariffs followed by harsh criticism from US Federal Reserve chair Jay Powell. Speaking at an economic retreat in Jackson Hole, Wyoming, Powell said that evidence of a global economic slowdown is increasing, and suggested that the US president's trade wars are a contributing factor. Trump responded by attacking Powell on Twitter, describing his hand-picked Federal Reserve chair as an enemy of the US. "My only question is, who is our bigger enemy, Jay Powell or Chairman Xi?" tweeted Trump. The Fed had cut its benchmark interest rate for the first time in a decade earlier this month, indicating soft confidence in the country's economic prospects.