The 2.9m jet tender can seat up to four people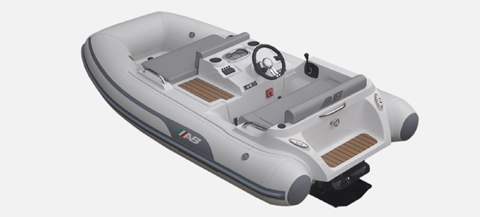 AB Inflatables, the RIB manufacturer, has introduced the ABJET 290 – a 2.9m (9.6ft) jet tender that offers four seating positions, two of which are at the pilot seat. Designed with state-of-the-art engineering and construction, it is said to be unlike any other model under 3m in length.
The ABJET 290 has a side-mounted throttle and completely flat floors, providing better ergonomics that contribute to perfect control and manoeuvrability. Its console has cup holders, a sport wheel and a dashboard panel for preferred gadgets and electronics.
Light, modern and versatile, the ABJET 290 can fit into the garage or platform of yachts and sailboats from 38ft, yet comes with a range of options to customise and match the mother vessel, many of them as standard. It is powered by a 90hp BRP-Rotax 90 ACE engine for speeds of up to 66kmh and has a 10-gallon (38lt) fuel tank.
The ABJET 290 is certified to NMMA (USA), CE (Europe) and ISO (International) standards.
A division of AB Marine Group, AB Inflatables produces RIBs for the leisure and commercial marine sectors.