The ABJECT 290 and ABJET 430 XP had their world debut in Ft Lauderdale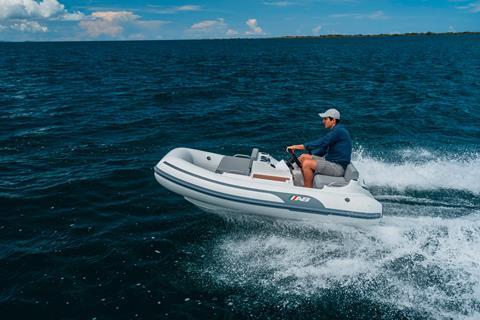 Yacht tender and RIB producer AB Inflatables officially launched two new AB Jet Tenders at the 2019 Fort Lauderdale International Boat Show (FLIBS).
"This year is a very special one for us as we recently released two highly-demanded Jet models at the same time we start celebrating our 50th year anniversary," saysJaime Cristancho, AB marketing & sales manager.
"The ABJET 290 and ABJET 430 XP are unlike any other boats in their segment. Completely breaking the mold in terms of design and performance, anyone who craves a tailored and superior experience on the water should get on these jets."
The new ABJET 290 is said to be unlike any other model sized under three 3m. It seats up to four people, including two seating positions at the pilot seat, and is powered by a 90hp BRP-Rotax 90 ACE.
The ABJET 290 comfortably fits into garages and platforms of yachts and sailboats from 38ft. It also offers a wide range of customisable options to more conveniently match the mother vessel, many of them as standard.
The ABJET 430 XP is the most complete and modern Jet tender in the 4m range. With a deck design unlike any other in its segment, it can seat up to seven people, ultimately maximising deck space, optimising boat stability, and promoting better weight distribution to obtain the highest performance.
The ABJET 430 XP is powered by a 150hp BRP-Rotax as standard, guaranteeing maximum performance and peace of mind while out on the water.