Construction of the Amasea 84 will begin this year in Turkey, with delivery set for 2021
Newly launched boatbuilder Amasea Yachts has provided further design details about its first-ever power cat, the 25m Amasea 84.
The Amasea project is distinguished from other catamarans in its class in that it will be built of marine grade 5083 aluminium instead of fibreglass and laid out over three decks instead of two.
"CFD studies show that compared to a monohull, the catamaran configuration offers better hull efficiency and in-built stabilisation," says Jack Wijnants, who set up Amasea Yachts in 2018 when he couldn't find a production catamaran designed for world cruising. "Another advantage is that with a beam of nearly 11m, it provides much more interior and exterior volume."
With exterior design and naval architecture by Albert Nazarov, a specialist in high-speed catamarans, the Amasea 84 is designed for family use and long-distance passage-making without refuelling and with sufficient dry and cold storage to remain at sea for up to six weeks without re-provisioning.
"Having three decks instead of two introduces much more flexibility in terms of layout," says Nazarov. "The master suite, for example, can be on the main or upper deck and the yacht is designed with two galleys: one for guest use and a smaller one for the crew."
The standard layout provides for a large salon/dining room on the main deck of 63sq m, big enough to fit a lounge and dining area, and two forward cabins of 16.7sq m each. The guest galley on the same deck level is nearly 16sq m.
Alternatively, clients can choose to have a single large master suite forward. The bridge deck can accommodate two VIP cabins of 20.5sq m and 17.5sq m behind the bridge, or the upper deck can be used to house the master suite.
"The interior design is entirely up to the client," says Wijnants. "We are free to engage a designer of his or her choice. The renders that we created are only indications of what the interior could look like and they are truly impressive."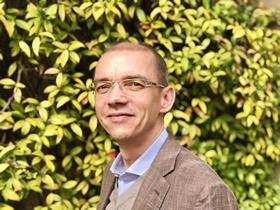 Amasea can also customise other features such as the windows to make them larger or lower bulwarks. The only thing that is fixed is the three-deck configuration and the exterior styling.
The crew accommodation is located inside the two hulls on the lower deck, along with the two engine compartments, laundry and twin garages for the tender and toys. The forward space in the hulls can be used for additional guest accommodation.
Wijnants says he plans to start building the first Amasea 84 at Amasea Yachts' own shipyard in Turkey before the end of the year with delivery scheduled in 2021. The first will take around 20 months to build, but subsequent hulls between 12-16 months. The finishing will take place in the Netherlands.
The estimated base price of the Amasea 84 is €6.5m.