The all-aluminium Amasea 84 will have three decks instead of the conventional two
Amasea Yachts, a relatively new yacht-builder that formed in 2018, has unveiled plans for a 25m tri-deck catamaran designed for long-range cruising.
Built entirely in aluminium, with a reinforced hull for cruising in high latitudes, the Amasea 84 has exterior design and naval architecture by Albert Nazarov, a specialist in high-speed catamarans. The yacht will be able to cross the Atlantic without refuelling, with sufficient dry and cold storage to remain at sea for up to six weeks without re-provisioning.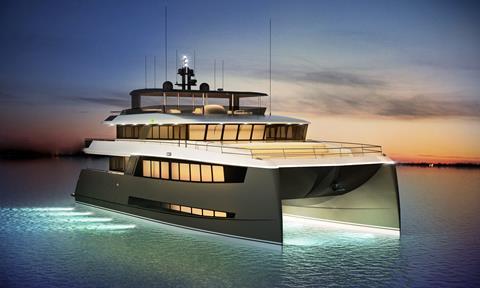 Production will be limited, offer a high level of customisation – clients are free to choose their own interior designer – and use top quality materials for the construction and outfitting. The yacht will also have a dedicated service area for the crew.
Jack Wijnants, Amasea Yachts' founder, came up with the idea after failing to find a suitable 20m-25m catamaran in which to travel the world with his wife. "They were all expensive, limited in how much the interiors could be personalised, and generally finished using low-quality materials," he explains. "Moreover, there was very little privacy for guests, as the crew have to use the same galley facilities.
"The whole story started with our own requirements that could not be met by composite builders. So I decided to develop my own catamaran, and on showing it to some yacht broker friends, they told me that I should market it."
Having three decks instead of two introduces much more flexibility in terms of layout, Wijnants adds. The master suite, for example, can be on the main or lower deck and the yacht is designed with two galleys: one for guest use and a smaller one for the crew.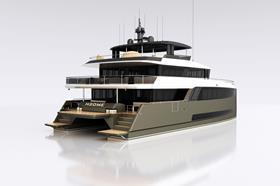 Amasea Yachts is setting up its own shipyard in Turkey to build the hull and superstructure in 5083 aluminium alloy. The idea is that the yachts will be finished at a shipyard in Italy or the Netherlands and negotiations are ongoing.
The first 25m unit is expected to take 18-20 months to complete, but subsequent build times will be 13-16 months with a maximum production of seven units per year. A hybrid propulsion package is also envisaged.