The new range offers innovative and functional design solutions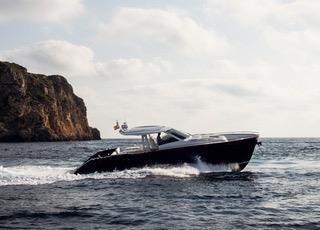 Italian boatbuilder Austin Parker has introduced a new range of Fulvio De Simoni-designed yachts – the Ibiza, Mahòn and Palma lines.
All models, says the company, offer innovative and functional design solutions and are intended for a demanding owner who is looking for a custom solution to indulge their passion for yachting.
The Ibiza line consists of two walkaround models of 44ft and 48ft, and an 85ft model; the Mahòn line comprises two motoryachts of 46ft and 50ft; and the Palma line comprises two flybridge yachts of 62ft and 66ft.
Closing the range is the innovative AL 86ft and superstructure in aluminium, a choice that "aligns with increasingly pressing 'green' demands", says Austin Parker.
Austin Parker is headed by CEO and general manager Sebastiano Gravagno (Gianni), with production taking place at its joint venture partner – the Seven Stars Marina & Shipyard (M&S) in Pisa, Italy.
The Seven Stars yard covers a 30,000sq m area of space, of which 3,200sq m is covered, and is equipped with two haul-out and launch docks, a travel-lift and mooring docks.
The yard can produce yachts in both fibreglass and metal (steel and aluminium).