Group Beneteau has announced its entry into the expedition yacht segment with Project E – a new line of displacement yachts which will be launched in 2021 in two lengths – 62- and 73-feet. Models of the new vessels are on display at Boot Dusseldorf.
French boat builder Beneteau Group has announced the introduction of a new line of displacement yachts at Boot Dusseldorf to address the growing popularity of the expedition segment allowing boat owners to explore longer-range destinations.
At 62 and 73 feet (18 and 22m), the two motoryachts will be the largest models in the Beneteau line-up providing its Swift Trawler customers an option for moving up to a larger vessel specifically designed for long-distance passagemaking. The largest yacht in the semi-displacement Trawler series is 50 feet.
The design of the new line is the result of a collaboration with Massimo Gino of Nauta Design and Amedeo Migalino of MICAD. Migalino was also behind designs for Beneteau's Swift Trawler, Gran Tourism and Monte Carlo Yachts.
The E Project line will be built at Beneteau's Italian yard at Montefalcone, where the Monte Carlo line is crafted and where production of CNB's sailing yachts has also been shifted.
Beneteau's Motoryacht Marketing Coordinator Robert Chaffer highlighted features of the new line. The 'Project E' name, he explained, reflects the design's emphasis on expedition capability, special experiences, extra internal space and efficiency in operation and full usage – criteria which has arisen from existing customer feedback.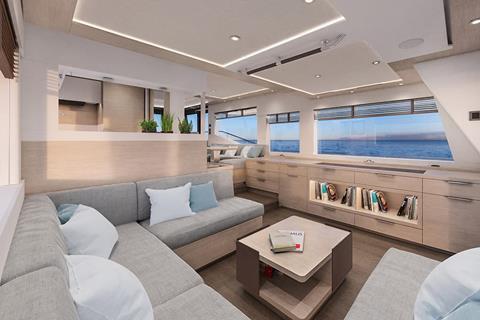 Chaffer also said the design brief called for a "terrace to the sea" resulting in a generously sized flybridge, aft cockpit and swim platform. The aft cockpit area can be closed off or kept open to the outdoors.
The 62-foot model – dubbed the E1 – is designed for 6-8 guests plus crew with a beam of 16.5 feet, and will debut at Dusseldorf 2011. The 73-footer – the E2 – is laid out for 8 guests plus 4 crew members and inside space that Beneteau describes as "similar to an 85-foot yacht" with a volume of 370 cubic metres. It is also planned for launch in 2021.
The cruising range of the smaller model is 900 nautical miles with cruising speeds of 8 knots, while the larger model has a range of 1,400 nautical miles and cruising speed of 10 knots; both models are specified with MAN diesels and have top speeds of about 20 knots for safe handling in rougher seas.
According to Beneteau, reception to the new line during the show has been very positive among visitors and they are looking at the potential to complete at least one contract during the show.
Expedition superyachts have been making headlines over the past year, particularly in the custom-built, top-end of the market. According to Boat International's latest Global Order Book, 58 expedition yachts (24 metres and above) were on order or in build in 2019.