The 17m plumb-bow vessel will be displayed at the autumn European boat shows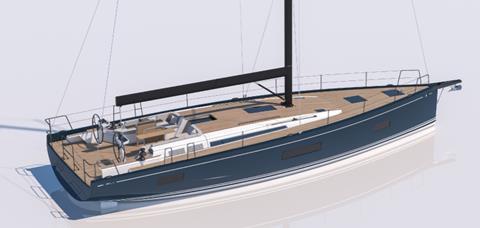 After two years of development, the eagerly awaited First Yacht 53 from Beneteau will be shown for the first time at the autumn boat shows in Europe – beginning with Cannes, Genoa and Barcelona – followed by Annapolis in the US.
The 17m First Yacht 53 is a high-end sailing yacht that combines luxury with performance. Roberto Biscontini of America's Cup fame was responsible for the hull design, while Lorenzo Argento handled the interior and exterior.
Featuring a full plumb bow and a maximum beam further aft, twin rudders give the perfect feed-back to control this highly responsive hull. The 2.5 m or 3m draught (with lead bulb), as well as an optional carbon mast, gives the First Yacht 53 the competitive advantage to clock up miles quickly, says Beneteau.
"To achieve maximum thrills at the helm, we focused on balancing weight and balance under sail when we designed the boat," says the company in a statement. "We worked hard to optimise the position of the centre of buoyancy in relation to the centre of effort, guaranteeing a lively yacht under sail, responding quickly to the helm.
"We asked the best outfitters to provide their top performing products: North Sails for the sails, Harken for the deck gear, Lorima for the mast, and Lemer for the keel. They were all involved on the recent design of the Figaro Beneteau 3 with foils," Beneteau adds.
The hull of the First Yacht 53 was built using the infusion process for optimal control of the boat's weight and for its excellent mechanical properties. The hull structural inner hull liner is infused, then bonded and laminated in areas subject to high stress, such as the chainplates and the keel. In addition to this technique, it makes use of a concept that is mainly used on superyachts up until now – an aluminium sole to which interior fittings are fixed. The overall structure, and the lowering and centering of weight have been considerably optimised to improve stiffness and performance.
The interior of the First Yacht 53 comes with three cabins and two heads, including a forward owner cabin. The other option is a layout with three cabins and three heads and a skipper's cabin are also on offer.