FB275 is the Italian superyacht builder's biggest-ever yacht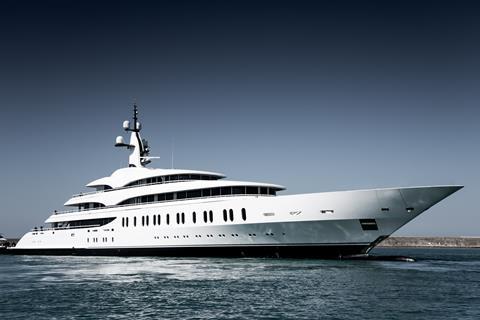 Benetti Yachts has announced the delivery of FB275, its new 180m flagship gigayacht. Featuring exterior design and décor by the UK's RWD studio and interiors by Benetti's in-house design team, it is the longest of three 100m-plus yachts built simultaneously by Benetti at its Italian facilities in Livorno.
"FB275: a great success for Benetti, for Livorno, for Italy," says Azimut-Benetti Group founder and president, Paolo Vitelli. "Today we completed this delivery 40 days before the due time. We have made the owner, his captain and his team extremely happy and proud of such a real masterpiece. My warmest thanks to the owner who trusted Benetti, to Franco Fusignani and all Benetti management who have made this extraordinary achievement possible."
The departure of FB275 marks a significant milestone for the Italian yard. With a steel hull, aluminium superstructure and a naval architecture by Pierluigi Ausonio, the 108m FB275 is the longest gigayacht ever to be delivered by Benetti. It has a 14.5m beam, a draft of 4.4m and a gross tonnage of 3,367 tonnes. After four sea trials, the yacht is now accredited with Lloyd Certification.
With a fuel tank capacity of 345,000 litres and powerful twin MTU 2880 kW engines, FB275 has a maximum speed of 18.5kt and an autonomous range of 6,500Nm at 14kt. Benetti's new flagship also boasts an electric Schottel stern SPJ pump jet to enable the yacht to travel distances powered entirely by electric propulsion. It can accommodate up to 22 guests, tended to by a yacht crew of 29.
Benetti says it invested heavily in company processes and its Livorno facilities in order to meet the challenge of building three gigayachts over 100m in length concurrently. An ENAC-compliant helipad was installed for clients and their staff, while two new 58.5m x 137m sheds enabled Benetti to massively increase productivity. Both sheds are equipped with two gantry cranes with a maximum capacity of 40 tonnes.
"I'm extremely proud of the progress we've made at Benetti," says CEO Franco Fusignani. "We've worked hard to innovate and develop efficiency in all aspects of our business – from our organisational processes to our construction methods. The launch in exactly 100 days of three gigayachts, each one over 100m in length and built in parallel here in Livorno, and FB275 delivery are a statement of this progress as less than four months have passed since her launch.
"Under the supervision of Maria Rosa Remedi, from Benetti Interior Style Department, Mauro Izzo and his team worked tirelessly on FB275 interiors design for 500,000 work hours. Focusing on processes has allowed us to take a big step into the future of large yacht building – all while maintaining a quality of gigayacht that we are proud to brand Made in Italy."
With FB275 now delivered to her owners, the handover of the 107m FB277 will follow shortly, followed by the delivery of FB272 in the second half of the year.