Balance Catamarans founder Phil Berman attends launch of Alani on Wednesday
Balance Catamarans has released hull #6 of its award-winning 526 series, the company announced on Wednesday.
Balance founder Phil Berman attended the Cape Town launch of Alani and confirmed two more Balance 526s would launch next year, with hull #9 and #10 scheduled for early 2020.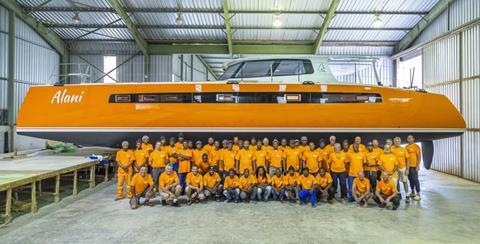 The trans-Atlantic partnership of Balance and South Africa's Nexus Yachts also recently expanded its facility in St Francis Bay to allow for tooling up its new 620 model. Balance and Nexus formed an exclusive partnership in 2012 to build and market high-performance voyaging catamarans.
"We couldn't be happier to have Alani on the water," Berman said of the latest launch. "She is that perfect balance of high performance and live-ability and the feeling of satisfaction we get from each new launch is truly enormous."
"We never wanted to grow the company too fast and lose touch with why we started in the first place, which was to truly build the finest performance voyaging catamarans on the water for a handful of appreciative customers," said Berman.
"We approach each boat as a work of art, but are palpably aware that our customers are risking their lives sailing the products we build. It is one thing to build fast and beautiful catamarans, but in the end they must be built robustly enough to withstand the worst weather nature can deliver."
Berman is meeting several boat building stakeholders during his Cape Town visit, fuelling speculation of another joint venture with a South African partner.