The Schaefer 580 uses Volvo Penta's tiller control in place of a steering wheel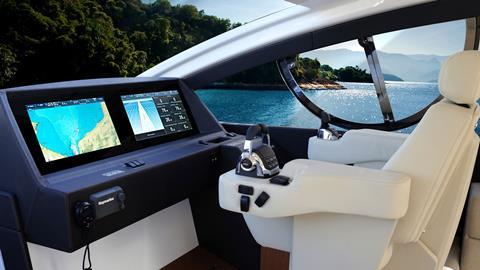 One of Brazil's biggest boatbuilders has introduced a new flybridge cruiser that it describes as the world's first leisure boat without a steering wheel.
Schaefer Yachts' 580 is powered by Volvo Penta 625hp diesels coupled to IPS drives and uses the newly developed Volvo Penta tiller control at the lower helm in place of a steering wheel.
This joystick control can operate in two modes, manoeuvring and running, and the changeover is made by pushing a button in the base of the joystick. In manoeuvring mode, the joystick controls both the engine thrust and the steering, while in running mode the joystick controls just the steering with conventional engine throttles and gear levers controlling thrust.
A tap on the top of the joystick alters course by 1° and a twist of the joystick alters it by 5°, whilst larger course alternations are made by pushing the joystick to the left or right. Compared with wheel steering versions, the joystick allows sharper turns and once released the turning stops.
The 580 has the joystick control only at the lower helm station, with normal wheel steering at the control station on the flybridge.
Joystick steering with no steering wheel is being increasingly used on commercial craft with the lifeboats of the Norwegian Rescue Service being pioneers in this type of control. The boat responds immediately when the joystick is operated but returns to autopilot control once the joystick is released, allowing the helmsman to concentrate on other factors when in complex control situations.
The pioneering route taken by Schaefer is likely to be followed by other builders, but the joystick is likely to be offered as an option rather than a compulsory fitting. The move comes as more and more boats are fitted with joystick control for precise low speed manoeuvring, meaning that it is a short step for the joystick to take over full control.