Europe'a largest aluminium boat manufacturer announces overhaul of two of its best sellers
Finland's Buster Boats, the largest aluminium boat manufacturer in Europe, has announced a full update of its large open boat models for the 2020 season. The minimalist Scandinavian design of its biggest boats, the Phantom and Magnum models, is now being carried over to its popular six-metre Buster XL and Buster XXL models.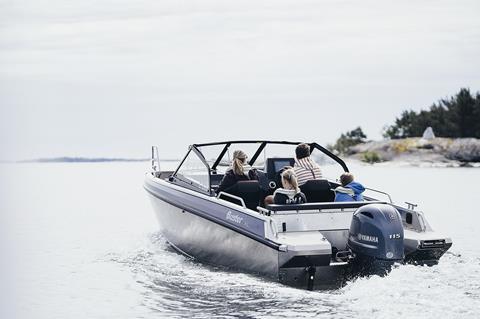 The new models will be unveiled at the floating boat shows in Helsinki, Stockholm and Oslo in late summer 2019, and the boat will be available from retailers immediately.
The hull of the 2020 Buster XL has been totally redesigned, and the new model is 70 centimetres longer than the earliest model. The interior is said to be significantly more spacious than before, which can be seen especially in the improved legroom for the aft sofa. Thanks to a waterline that is 30 centimetres wider than before, the floorspace is also considerably larger.
The Finnish builder, which was acquired by Yamaha Motor Europe NV in the Netherlands at the end of 2015, told IBI that it expects to build between 400-500 of the new XL and XXL models combined.
It's been a good year so far for Buster, according to marketing manager Johan Finnberg, who claimed that the builder had been able to strengthen its market leading position in the Finnish market. According to recently released statistics from Finnish association Finnboat the top positions in the registration statistics for January-July 2019 were again held by Buster and Yamarin, with 407 and 344 registrations, respectively.
"Our plan is to launch 2-3 novelties per season," Finnberg added. "It is vital in this business to have new launches at a steady pace and keep the range up to date.
The history of the Buster XL stretches back to 1992, and after almost 30 years in production the fifth model generation is being introduced. In keeping with the traditions of the XL, the design of the new model has been based on practicality, economy and safety.
Boats carrying the Buster name have been produced since 1976, but Buster's history began with the first Kello boat manufactured in 1955.
The Buster range includes 18 boats, of which the under four-metre Buster Mini and the almost ten-metre Buster Phantom are the smallest and largest, respectively. More than half of all boats manufactured are exported.
The manufacturer of Buster boats, Inha Works Ltd, is a subsidiary of Yamaha Motor Europe. Buster Boats' boat production is located in Ähtäri, Finland while the company's headquarters and R&D facilities are located in Raisio, southern Finland.