Two-hour run time and up to 20 minute recharge capability among key features of high-tech Orca electric PWC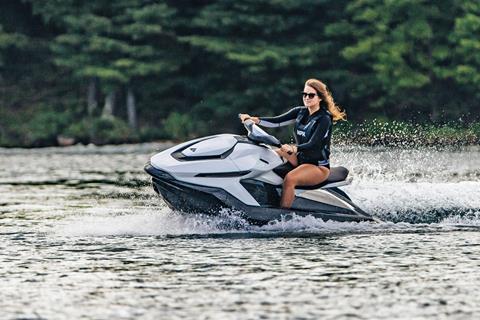 Canadian snowmobile manufacturer Taiga Motors has introduced a new all-electric personal watercraft (PWC) that the company describes as "a new segment of personal watercraft, defined by conscious luxury, high performance, and connectivity."
Based on the electric snowmobile product line that the firm launched in 2015, the all-new Orca PWC features a full carbon-fibre hull construction and a floating seat made possible by the absence of a combustion engine. Weighing less than 600 lbs and able to generate the equivalent of 180hp, the Orca is said to offer an unrivaled power-to-weight ratio in a compact hull form that serves to differentiate it from competing high-power personal watercraft. Top speed is stated as 65 mph.
The Orca's 23kWh battery capacity provides energy for up to two hours of drive time under typical operating conditions. The 275lb battery runs on a 400V automotive system, which the company claims offers greater efficiency, reliability and safety. The PWC can be charged from a regular outlet for convenient overnight charging, from standard automotive chargers at a rate of up to 10kW, or by DC fast charging to 80% in 20 minutes, making the units appealing for commercial rental operations. Data collected from companies operating Taiga's electric snowmobiles in fleet operations have shown fuel savings beyond US$2,000 per sled per year.
In recreational use, the company is backing its Orca PWC with a five-year no-maintenance powertrain warranty and remote diagnostics utilising an onboard computer that also offers intelligent connectivity via built in GPS mapping, LTE, Wi-Fi, and Bluetooth.
Taiga notes that initial production will be limited to 500 units, which will be sold through certified dealerships beginning in summer 2020 at a retail price of between US$24,000 and $28,000. This initial production will be followed by a lower-priced variant aimed at the broader recreational market and without some of the initial version's features such as the carbon fibre body, targeting a retail price in the $14,000 range.
"Electric car owners, some of whom would not purchase a combustion watercraft in general, are largely purchasing within the premium segment and will now have an electric alternative for a day on the water. Even outside of EV owners, many lakeside homeowners, watersport enthusiasts and even boat owners do not purchase PWCs because of noise levels and exhaust smells," says Taiga director of strategic initiatives, Chloe Beaulieu. "Electric PWCs can open up access to bodies of waters that have banned combustion-engine boats or PWC use specifically."