Yacht-building at Hythe yard unlikely to start until 2021
Fairline Yachts, the UK boatbuilder, used its press briefing at Boot Düsseldorf 2020 to emphasise the ongoing rebuilding of the brand which included the global launches at the show of the Targa 45 GT and a new F//Line 33 outboard. Development of a new Targa 53 is also underway, to be launched later this year, and a new F//Line 37 is also planned.
As part of the brand's rebuilding, the company has mothballed its new shipyard facility in Southampton while it focuses on its models up to 60ft. It is not likely that yacht building will start at Hythe until 2021.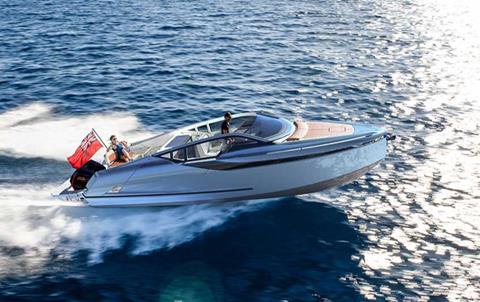 In respect of its Düsseldorf launches, the new Targa 45 GT, which is available for the coming season, offers buyers a flexible layout common to the Fairline's GT range, but also including some new, innovative features.
The Targa 45 GT features a unique attribute for a yacht of its size, namely a tender garage for a Williams 280 MiniJet. The addition of this tender garage adds improved functionality and innovation to the 45-foot category. Available with a choice of a two or three cabin, and two heads layout, the Targa 45 GT can be further personalised to have either a mid or forward master cabin, depending on preference. The Targa 45 GT is powered by the new twin Volvo IPS600 D6-440 engines, with the option to upgrade to Volvo's new IPS650 D6-480 units.
As to the F//Line 33 outboard, this builds on the success of the F//Line 33 which has reached some 30 orders, and this the new outboard version is a Mancini designed craft. Prices will start from £272,150 (excluding taxes).
This model incorporates the new 'Ascender' bathing platform from H+B Technic to maximise space, functionality and enhance the connection to the water. This innovative high/low platform surrounds the outboard engines, lowers to form steps to the water when submerged, or raises to act as a paseralle, in turn allowing the propellers to be raised clear of the water.
This first outboard engine option can be powered by either twin Mercury Verado 300 petrol engines (estimated top speed of 37 knots), twin Mercury Verado 350 petrol engines (estimated to reach 42 knots) or the brand new twin Mercury Verado 400 petrol engines (estimated to reach 45 knots). The latter being the highest horsepower Verado-branded outboard engine in Mercury's portfolio.
Wayne Huntley, Fairline's Design and Engineering Director, commented: "The launch of our F//Line 33 Outboard is a pivotal point in Fairline's history – being the first model in recent times with outboard engines. This exciting new addition to the F//Line range provides a unique opportunity for us to enter new markets and introduce new clients to the Fairline lifestyle, as we continue to expand our global customer base. We look forward to further developing on the incredible success of our new F//Line brand."
In respect of the Hythe facility Miles Moorhouse, Head of Marketing, told IBI: "Buying the Hythe facility was completely right because it allows us to develop larger models than we can build in Oundle such as the Squadron 85 which is being designed. We have mothballed the Hythe facility to allow us focus on our models up to 60ft and improve the operation of the Oundle facility."
He added: "We are using Hythe Shipyard for commercial work and also superyacht refits making use of the large slipway to help generate revenue to pay for the site. We are making use of the former Solent Refit shed and also have a number of short leases in the former Green Marine shed. We have a long lease of the Hythe but we do not plan to build yachts this year; more likely next year.
"Buying Hythe was the right thing to do," he said, "but we need to sort out the profit and loss position. We are also concentrating on our models up to 60ft and the Oundle facility." Fairlline hopes to achieve an operational profit this year.