New UK shipyard unveils three-model range in Düsseldorf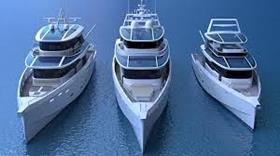 The official launch of the UK-based Arksen brand was held at boot Düsseldorf this week. Three yacht sizes are planned for the new series – the Arksen 70, Arksen 85 and Arken 100.
The Arksen brand is the brainchild of tech entrepreneur and investor, Jasper Smith. Work on the first model, an Arksen 85, will start in April and this will be retained by the company to promote the brand and will also be used for research initiatives.
Smith is best-known as a pioneer in the games and tech industry, having co-founded and developed a number of successful businesses in the digital media sector such as PlayJam, Fantastic Corp, Vala Capital, Optimistic, PlayStack and PlayWorks.
"We set out to create a great company; one that could have a profound impact on the lives of the owners of our vessels that could actively contribute to a better understanding of the oceans," Smith said. "By building offshore vessels that are designed to withstand the harshest ocean condition and that incorporate autonomy, hybrid propulsion and 'always on' critical systems monitoring, we are at the forefront of a revolution, pioneering technologies that will become the foundation of the future marine industry."
The brand will comprise three key elements – the three Arksen yacht models, the Arksen Foundation, and the Arksen Explorers Club. The yachts will be built in Cowes on the UK's Isle of Wight by Wight Shipyard, an associate company of Southampton Marine Services and the yard that was involved in the refit of Shemara.
Humphreys Yacht Design has produced the exterior design and Design Unlimited the interior. Arksen says that the yachts are designed for explorers and made for adventure. They have been designed to meet the demands of being explorer yachts in the 20m-30m (66ft-99ft) range that can be manned by minimal crew. The interior layout is flexible to allow the yachts to be used for leisure cruising or research purposes.
Owners will be encouraged to share in research projects as part of the Arksen Explorers Club initiative. The base price for the yacht, excluding customisation, will be £4.5m for the 70, £5.15m for the 85, and £7.5m for the 100.
Smith told IBI that the total investment in the brand is about £6m, which has been shared between him and private equity money.
The Arksen Foundation is a not-for-profit organisation that was set up to provide project funding, facilitate cutting-edge scientific research, and create innovative media to inspire a greater understanding of the beauty, complexity and fragility of the ocean's ecosystem and the land around it.
All Arksen owners will be required to join the foundation and pledge to donate 10% of their vessels' annual sea time to projects that the foundation collectively supports, allowing scientists, explorers, thought leaders, filmmakers, journalists and others to access a fleet of vessels from which to run their projects.
Smith commented: "Ultimately Arksen is about delivering the very best machines for ocean adventure that money can buy, supporting them and giving them our community of owners, scientists and conservationists the confidence to use our vessels to their full potential."