The new "crossover" boats are designed to meet the needs of the Asia/Pacific market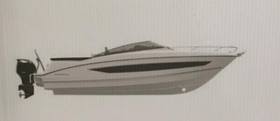 Groupe Beneteau chose the Sydney International Boat Show (SIBS) to release two new models of what it calls "crossover" boats designed in large degree to meet the needs of the Asia/Pacific market.
Mark Chapman of Chapman Marine Group, Beneteau's Sydney dealer/distributor, called the boats "part of a new generation of open day boats that Beneteau are producing."
At 10.6m (34ft), and with a 3.3m (11ft) beam, Chapman referred to the new Flyer 10 as a crossover between bowrider and cruiser, with a large unobstructed open bow area along with two cabins, a fully enclosed head and separate shower and powered by twin Mercury Verado 350 outboards.
Chapman told the assemblage of media on deck that the Flyer 10 is the first of several models based on the boat's footprint.
"This boat here is an open hard-top version, but we do have some Gran Turismo versions coming out in 32ft and 36ft in the next 12 months," adding that all of the new models are outboard powered.
"Though some of them will be available with sterndrives, as we know, the global market is trending toward the outboard product and Beneteau are very, very skilled leaders on matching outboard product on to big boat hulls."
The new Flyer 8, at 8.1m (26.7ft) and a 2.5m (8.4ft) beam is billed as a cross between a bowrider and a centre console.
Both boats meet what Groupe Beneteau Asia/Pacific director Vianney Guezenec calls "the market's need for something super versatile."
"Our clients don't want to spend any more time on boats that don't answer their needs," Guezenec told IBI following the briefing. "These models offer multiple solutions: if you want to sunbathe, if you want to drive fast, if you want to sit comfortably with your family, it is typically the boat we need for this market.
"We need to offer a boat that is comfortable enough, fast enough and user-friendly enough so that we can attract Australian boaters," Guezenec said.
Guezenec added that the Australian and Asia/Pacific markets, generally, want twin outboard-power.
"North America is difficult to identify just one 'typical boater' because it is so wide and large and you have lots of opportunities to sell lots of different kinds of boats. but I would say for sure the Flyer 10, like in Australia, would meet the needs of many Americans."