The Tyee 1875 and Tyee 1975 are packed with fishing features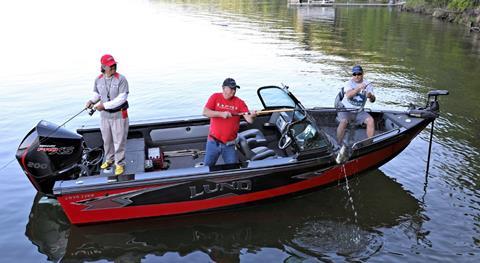 Iconic aluminium fishing boat builder Lund is releasing two new limited edition Tyee models for 2020: the Tyee 1875 and Tyee 1975.
The two new models both feature Lund's patented Integrated Power Strake 2 (IPS2) hull, which features two reverse chines for enhanced control while manoeuvring at high speeds and provides a more stable platform when moving from side to side while fishing. The flat centre pad with two sets of lift strakes improve hole-shot and a flat centre pad allows non-turbulent water to reach the engine intakes to maximise performance.
"The Tyee has always been an extremely versatile fishing boat for the serious big water angler who not only demands the newest fishing innovations, but also has a family looking for the latest recreational features for their summer lake activities," says Dan Anonen, Lund product manager, in a company release.
"For 2020 we focused on all the things that sets the Tyee apart from our other models and then set out to improve and maximise every square inch of its functionality."
The two Tyee models are packed with fishing features with lots of livewell and storage space and myriad upgrades available.
The Limited Edition models have a premium graphics package with clearcoat paint, custom Pro-Ride seats, upholstery and flooring upgrades; a Limited Edition steering wheel, stainless steel hardware, premium audio, Mercury Smartcraft gauges, maximum horsepower Mercury Pro XS engine and a Limited trailer with custom rims, lights, and decals.