World premieres for Stealth 36E and Indigo 53 power catamarans
On the second day of the Thailand Yacht Show 2020 (TYS20), The Australian multihull specialist, Multihull Solutions, introduced four new yachts including two world; one Asian and one Thai premiere.
These premieres give TYS20 added status that a leading yacht dealer and marketeer has chosen the event to hold global launches. The debuts included the world launches of the Stealth 36E power catamaran and the 53 Indigo day charter catamaran; the Asian launches of the NEEL 51 sailing trimaran and the Thailand launch of the Fountaine Pajot MY 40 power catamaran.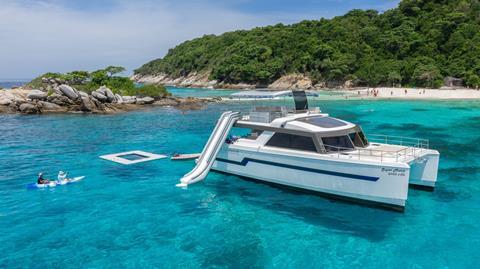 The Stealth 36E power catamaran is the latest design from the Asia Catamarans shipyard and it has been designed by Alan Carwadine. The new catamaran has a top speed of 22 knots, or for economical cruising, her twin 50 / 60HP outboards burn just 16 litres per hour (total) at 16 knots.
This new outboard-powered catamaran is an epoxy build with carbon in high-load areas, and features only industry-leading resins, fabric and core materials. The Stealth 36e is available in either Charter or Family version layouts. The Charter layout features two queen berths, two single berths and one spacious bathroom, while the Family layout features two queen berths and one single berth along with two bathrooms.
The Indigo 53 Day Charter catamaran provides a quality platform for commercial day charters and cruising. This model is designed to be operated by a crew; is easily maintained the builder claims, and provides a good level of comfort for guests. Twin Yanmar 440HP provide a cruising speed of 18 knots and maximum speed of 23 knots.
The NEEL 51 trimaran is a bluewater cruising vessel and seen as ideal for the South east Asian market. It is designed for family cruising offering both performance and comfort. It is able to accommodate 12 guests and can be crew operated. The accommodation includes a 10m² owner's suite which is located on the main deck.
The NEEL 51 boasts centralised handling and ergonomic controls, with a protected helm station. Since its world launch the NEEL 51 has seen good sales and the next available build slot is in early 2021.
NEEL Trimarans is celebrating its 10th anniversary this year and as part of this there are special buying offers on 10 x NEEL 47 and 10 x NEEL 51 trimarans.
Since its first introduction the Fountaine Pajot MY 40 power catamaran has proved a successful model. The FP MY 40 has a hull designed by Daniel Andrieu, and its upper decks and interior designed by Pierangelo Andreani. The MY 40 is already enjoying strong sales across the world with the first MY 40 arriving into Australia in late 2019.