The new model is perfect for families in the US and Europe, if not for the tariffs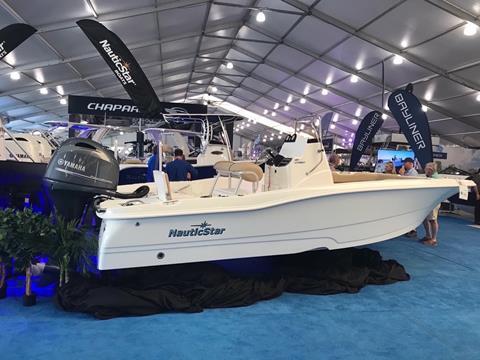 NauticStar Boats' new 191 Hybrid features a new hull designed for rough water stability at a very affordable price – perfect for families in the US and Europe, except for those pesky tariffs.
The Hybrid Series is designed using features from deck boats, centre consoles and bay boats, to provide everyone on board a comfortable ride, and the most options for onboard activities. The new 191 Hybrid is 18ft 11in long with a shock-absorbing beam of 98in; with a 90hp Yamaha outboard and a dealer-provided trailer, the package retails for just US$30,000.
"It's a very attractive price point, especially given our value proposition of fit, finish and quality," NauticStar president Jay Povlin told IBI at the Miami International Boat Show (MIBS).
In fact, Povlin said, families here and abroad share similar boating habits suited to the Hybrid Series.
"The Europeans, the way they boat, this whole blend of a centre console but not really a pure fishing boat and a lot of seating and sun pads, higher sides, because the Mediterranean can get a little rough, I know this series would be very well received over there."
But while Povlin is poised to put his decades of international marine experience to work behind the Hybrid Series, with tariffs and counter tariffs in place between the EU and US, it just isn't practical.
"Our brand is known for value, we're a price-point brand," Povlin explained. "We would like to bring [the Hybrid Series] to Europe," Povlin said, "but when you stick another 25% on top of it, it doesn't make it very easy for anybody; the customer, us or the dealer."
Povlin said testing the waters with European dealers has generated interest that he hopes he can maintain until the tariffs are no longer a barrier to entry in the EU.