Boat to make debut at boot Dusseldorf
Polish boatbuilder Mongird Yachts claims its new, and very first launch, the Mongird 25, designed with the shaped lines of motorboats from the 1920s and 1930s, is the world's first exposed-carbonfibre motorboat that combines a high gloss wood finish, polished stainless steel and up to date features.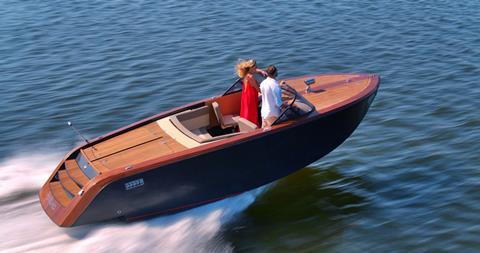 Built of carbon fiber sandwich using vacuum infusion process, the Mongird 25 weighs in at less than 2 tonnes of weight despite the natural teak and mahogany finish turning the boat into a comfortable daycruiser for up to 6 people. 7.6m in length and 2.45m of beam make the Mongird 25 also an ideal tender.
Fitted with 350hp MerCruiser Mongird says the 25 has already hit 48kts (26kts of cruising speed) and is capable of as much as 55kts. The standard version will be fitted with 300hp MerCruiser, bowthruster, tinted windshield and natural teak finish. Optional equipment includes a 350hp engine, shock mitigating seat pedestals and genuine leather upholstery. "
With some of the features, Mongird Yachts refers to automotive market. The classic Nardi Torino personalized wheel in a mahogany case will embellish the living room, bedroom or office while the building process is on.
Mongird Yachts is an independent Polish manufacturer with production and headquarters located in Gdansk. Mongird 25 is the very first launch and will soon be followed by electric version and bigger models.