Numarine has announced the launch and delivery of the second unit of the 26XP Series - a compact 26m expedition vessel is equipped with a full-displacement efficient hull and bulbous bow for maximized stability and long range.
"The Hull #2 of the 26XP is specially designed for its owner," said Omer Malaz, founder and chairman of Numarine which offers a range of yachts from 62ft-105ft and is headquatered in Istanbul. "The new yacht has our 'silent package' with a lithium-Ion battery system allowing all necessary onboard systems including air-conditioning to run without generators for up to 12 hours, silence onboard to enjoy the most beautiful island bays or to sleep peacefully while being rocked by the sea."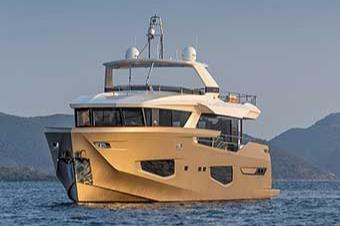 Numarine's long-term collaborator Can Yalman designed the 26XP's exterior and interior. Naval architecture is by Umberto Tagliavini,another perennial partner of the shipyard.
One of the key features of the 26XP is a special flybridge. It covers about two thirds of the hull's length, so it is around 16 meters long and 55 square meters of floor space. The second console unit and another dining area in the front are partially enclosed by the radar mast, while the rear sun lounge is a fully open space.
Maximum speed will be 13.5 knots, and a cruising speed is 9 knots. The efficient hull offers greater fuel autonomy up to 3,000Nm at 8 knots.
The next two 26XPs units are going to be launched by the end of 2018. Like the just-delivered second one, they will have displacement hulls. The first 26XP had a semi-planing hull, a pair of powerful engines and a max speed of 28 knots. According to Numarine, this design concept flexibility is another big advantage for the 26XP.