Textrax was unveiled at the recent Hutchwilco New Zealand Boat Show
Released at the recent Hutchwilco New Zealand Boat Show, Textrax is a revolutionary electric amphibious system based on a full electrical system, as opposed to hydraulics used by other amphibious system manufacturers.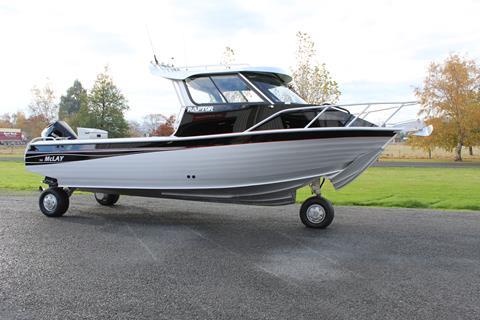 An All Wheel Electric Drive (AWED) powers the vessel quietly down the ramp and into the water using the very latest in battery technology and fly-by-wire electronics.
A Kiwi innovation, Tectrax is produced in Taupo, in the centre of the North Island of New Zealand, and is the brainchild of Rob Gower, who along with a team of electronics engineers have developed a remarkable alternative to the amphibious boat market.
While Tectrax has its roots back to 2003, it took until 2015 to achieve the result wanted. After some modifications and refinement, Gower protected his ingenious ideas, took out patents and then in 2015 put together an expert team, creating a new and revolutionary electric amphibious system
This fully electronic system is reliable, quiet and low maintenance with no annual servicing required while supported by an industry leading warranty.
There are four models within the AWED range that can be fitted to boats displacing under 2,500kg, and up to 4,000kg. The T2500 and T3300 are suitable for boats between 2500-3000 kg (6m-7.5m), with the T3500 and T4000 designed for boats from 6.6m-8.0m and all up weight of 3500kg-4000kg. All up weight of the system is 454kg-527 kg. Standard on all models is the AWED, ABS, Fly by Wire/Traction control and are designed to drive on a gradient up to 22%.
Tectrax uses a modular Lithium Ion battery system that provides a wide range of configuration options to meet run-time preferences. Start with the standard battery package for 35 minutes of drive time at up to 8km/h, or you can simply add more batteries if required. Once back at home, you only need to plug into a standard wall socket and recharge. Charge time from a domestic socket is two hours for the T2500 and T3000 and four hours for the T3500 and T4000.
Tectrax is designed for boatbuilders to fit during the build stage, with a growing number of New Zealand aluminium trailer boat manufacturers, such as Senator and McLay, already doing so. Tectrax can also be retrofitted to many existing models. The modular battery system allows for flexible component placement to optimise sea-keeping performance, while electronics and hydraulics are installed below decks to preserve valuable deck real estate.
The Tectrax system carries an IP69 rating for water ingress into the motors or in water equipment. It has a one-year commercial and government warranty and a one-year recreational warranty on the hub motors, electrics, electronics and hydraulics and a two-year warranty on the batteries and mechanicals.