Project Firenze is third 43m yacht in the Mangusta Oceano series of displacement vessels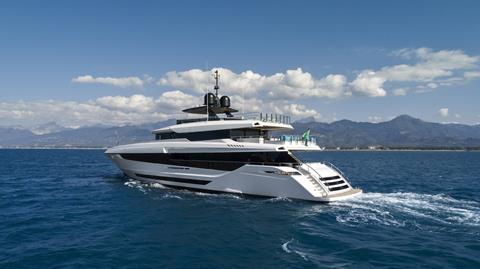 Italy's Overmarine Group has delivered Project Firenze, the third 43m yacht in its Mangusta Oceano series of displacement vessels, to its new owner. The official ceremony took place on Overmarine's private quay in Viareggio following the successful completion of tests and sea trials.
The Mangusta Oceano displacement line, four hulls of which have been launched in just two years, stands out for its onboard liveability, comfort and long range – all features that stem from the joint work of designer Alberto Mancini and Overmarine Group's Technical department.
"Great versatility and an onboard lifestyle normally found on far larger yachts are Mangusta Oceano 43's most striking features, allowing the owner and his guests to enjoy life at sea in the most diverse conditions and the most exotic locations," says Overmarine in a statement.
Unique features on the new Mangusta Oceano 43 include a forward infinity pool with two separate sunbathing areas that dive into a pool with a waterfall, and an aft beach club where the aft hatch converts into a platform on the sea, revealing a multipurpose area.
The yacht boasts a cruising speed of 11kt, ensuring a range of over 4,500Nm; limited consumption thanks to a CFD-optimised, tank-tested hull; stability both at anchor and when cruising; and cutting-edge materials and technologies to minimise noise and vibrations – all features that were recently confirmed during the sea trials.
The Mangusta brand is owned and managed by the Balducci family, who have worked in the boating industry since the 1950s. Sine then over 300 boats have been delivered, 100 of which exceeded 30m in length.
A new model in ththe Mangusta Oceano line will be launched on the market soon, says Overmarine.