The 17m Xquisite 56 Power Cat is expected to enter production later this year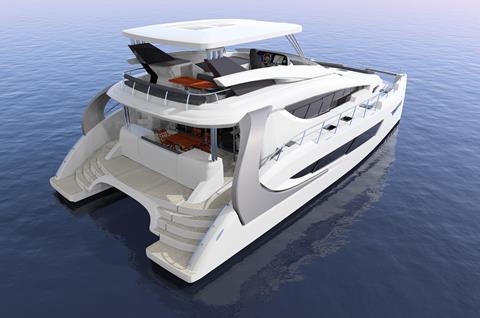 Joint venture partners Phoenix Marine and Xquisite Yachts have launched a new 17m luxury cruising catamaran, the Xquisite 56 Power Cat.
The boat was formally launched at the Miami International Boat Show and follows the successful X5 luxury 50ft catamaran that won a best boat award in 2017. Cape Town-based Phoenix has an exclusive sales and distribution agreement with Miami-based Xquisite Yachts.
Both the X5 and the Xquisite 56 were designed by Cape Town designer Rudolf Jonker. Features include joystick docking, an opening front windshield, iPad-based maintenance software and a hydraulic aft platform.
The Xqusite 56 is expected to be in production later this year, according to a statement issued this week by the City of Cape Town's investment arm, Invest Cape Town.
Xquisite chief executive Tamas Hamor says: "This new model will be the ultimate luxury cruising catamaran for couples and families who want to explore our oceans under power, rather than sailing."
Last year Phoenix/Xquisite announced they would increase production to six boats a year inside their expanded Cape Town facility. Currently Phoenix employs 75 staff and has an annual turnover of around US$6m.