New Prestige X line will take brand into a larger boat size category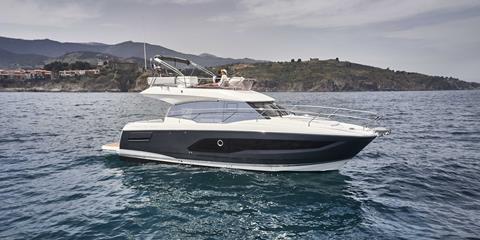 Prestige Yachts says it has confirmed its market position as global leader in the small- to medium-sized flybridge boat range with the launch of its new 42' flybridge, the Prestige 420, at the Cannes Yachting Festival this week. The company has also confirmed a move to larger models with the soft launch of the new Prestige X line range.
IBI spoke to Erwin Bamps, Prestige general manager, about the new 42ft model and the extension of the Prestige brand with the new X line range.
"Prestige Yachts is very well presented globally and in 2019 we are the global leader in terms of unit sales in the flybridge sector from 40ft-60ft. The new 42' is the latest model in our range and represents the core values of the brand, offering an incredible quality of life aboard a boat of this size. Her bold, elegant lines are signatures of Garroni Design. This model boasts a V-Drive propulsion system that ensures perfect balance due to the centralisation of weight with multiple engine possibilities (2 x 380hp or 2 x 425hp) using a V-drive propulsion system to give weight distribution and balance."
Bamps continued: "The brand has a clear focus on family boating developed over the last 30 years. Looking to the future, since I joined Prestige as general manager 10 months ago my team has been analysing how people will use yachts in the future which has led to the development of the new Prestige X line which is being soft launched at the Cannes Yacht Show this year. The X line takes Prestige into a larger boat size category, being developed with the idea in mind that boaters are looking for more space and light on board and want to use boats differently than in the past with more emphasis on outside space. The X line will have big, sliding windows and the front deck and flybridge will be connected with two access points for the flybridge. The X line is being soft launched at Cannes this year with sea trials taking place in early 2020."
According to Prestige Yachts designer Camillo Garroni from Garroni Design, which has been responsible for the design of all Prestige models: "The X line will be an important addition to the Prestige brand as our customers are looking for new ways to enjoy the sea. Our main strength with the Prestige brand is to produce boats that perform well on the sea and can really be used by a family as well as having good styling, in other words, form follows function. With the X line we have a new concept with a huge cockpit that we call an infinity cockpit like a terrace on the sea so you have the panorama of the sea behind the boat. Our intention is that from any position on the boat you should be able to have a sea view."
Prestige Yachts first revealed details of the X line at the Beneteau Group Press conference on the first day of the Cannes Yacht Show last Tuesday, confirming that the first boat to be produced in the range will be the X70. "A ground-breaking new 70ft mini superyacht will have its debut at Cannes in 2020. The X70 redefines space, light and luxury with an emphasis on hand-selected materials and exceptional fit and finish. Prestige Yachts and Garroni Design have created a revolution in space and movement by moving the side decks to the flybridge, enhancing circulation and optimising room on the main deck. Redistribution and blending together of interior and exterior living spaces greatly increases the size of the cockpit and ensures entertainment areas flow throughout the vessel. In addition, there is a beach club fully integrated into the aft platform providing further entertainment space and proximity to the water."
According to Prestige: "The X70 is the most innovative yacht of her category and her generation, enabling people to experience an entirely new way to live on the water. Over the next few years, this state-of-the-art motoryacht will be joined by smaller and larger models to complement the X-Line range."