Pulse58 is said to be the first-ever production RIB with a fully integral electric drive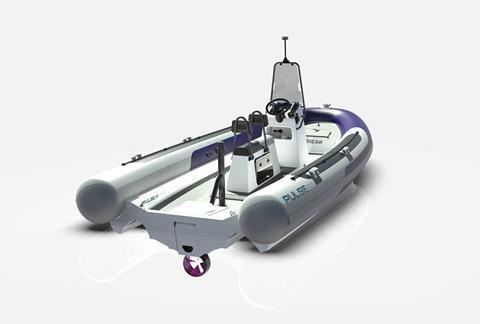 RS Electric Boats, the new sister company to UK sailboat manufacturer RS Sailing, is to launch its new electric RIB at Boot Düsseldorf this weekend.
Pulse58 is the product of two years of development and is said to be "ground-breaking" as the first-ever production RIB with a fully integral electric drive.
Pulse58 uses marinised electronic components already well-proven in automotive use. A 57Kwh battery bank stored in a purpose-designed underfloor structural case delivers up to 104v to the RAD drive propulsion unit.
"RAD drive is a unique and integral retractable drive unit that belt-feeds power from the twin motors to a hub-less drive unit," the company explains. "The electronic management system controls all aspects of the drive, motor control and battery conditioning and also controls the electric drive tilt mechanism that lifts the RAD drive into the transom in shallow water."
Pulse58's hull design has been purposely designed for its electric drive. The tunnel hull form and long waterline length give decreased low speed drag that suits the instant torque of electric power, while providing a stable and manoeuvrable platform at speed. The battery bank deep in the hull lowers the centre of gravity increasing comfort. Hypalon tubes and an integral cockpit non-slip floor combine to give a high-quality and long-lasting finish.
The RIB's sustainable construction comprises of bio-based infused epoxy resin, recycled PET core material and naturally sourced basalt and flax fibres. Experience gained in the sustainable construction of the RS Aero and RS21 sailboats has enabled RS to bring to market what it claims is the most sustainable laminate of any RIB in the sector.
RS Electric Boats has also partnered with Tree Aid to offset the carbon to ensure the entire build cycle process is carbon neutral.
The boat's range is at least 35Nm at its maximum speed (>20kt), so it can be expected to last for a day's use under normal RIB usage and distances. The leisure and coaching specification at launch will be complimented by commercial and superyacht versions in due course.
"Pulse58 is revolutionary due to its huge depth of technology and innovation. It defines a new genre of motorboats," says the company in a statement. "Similar to electric cars, full electric drive requires a change of mindset and habits of use that match its capability. These small changes are key to protecting the future of our planet and continued enjoyment of boating in a sustainable way."
Pulse58 will make its debut at Boot Düsseldorf on Saturday 18 January at 16:30 (CET) on Stand E24 in Hall 15.