Voyage Yachts reports surge in interest following launch of its first hybrid model last year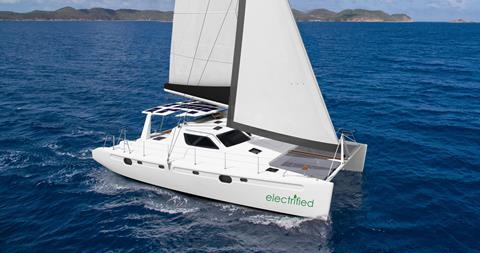 Cape Town catamaran builder Voyage Yachts has reported a surge in interest in hybrid electric designs following the launch of its first hybrid in December.
The Voyage 480 hybrid is fitted with 1.6kW of solar panels, 35kWh of lightweight high-capacity lithium ion batteries and regenerating electric drives. The first vessel was dubbed 'electrified' and is a precursor to a bigger hybrid model due to be launched later this year.
Voyage managing director Kay Oldenburg told IBI the first of its Voyage 575 series, currently under construction inside the Cape Town facility, is a hybrid, with the second hull likely to follow suit. "That's the future," Oldenburg said. "At the moment it is pricy, but the more clients get involved, the more affordable it becomes."
Voyage has partnered with electric propulsion system suppliers Oceanvolt for its hybrid designs. "We have been following Oceanvolt for many years – they seem to have the most reliable package," Oldenburg said. "We kept in touch with them and the more they brought to the table, the more interesting it became for us to use them as suppliers."
He said electric propulsion was attractive to many categories of buyers, including those interested in expeditions or peaceful island cruisers. "The silence is fantastic on these boats. You don't have any diesel fumes or vibrations," Oldenburg said, adding that his first taste of 'silent' cruising was almost surreal. "You almost feel like something is not quite right – like the engines aren't working. But then you remember."
Rival Cape Town builder Maverick Yachts also recently launched a hybrid model, the Maverick 440 hybrid, billed as having a longer engine range than its non-hybrid sister model. "This has been achieved and we have extended the range on engines over and above the Maverick 440," the company says on its website.