Around 70 people attended the launch of the Scape Sport 40 in Cape Town this week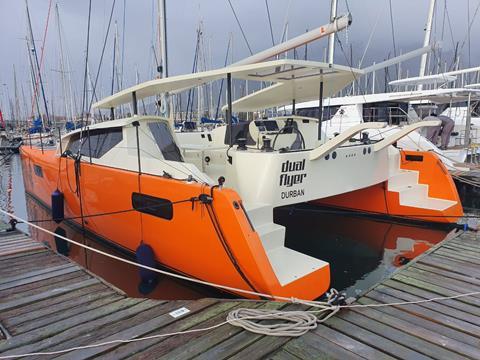 South Africa's newest catamaran model was officially launched this week – the Scape Sport 40, built by Cape Town builder Scape Yachts. The boat is a modified sport version of the better-known Scape 39, with design input from well-known local naval architects Anton du Toit and Simonis-Voogd.
Scape yard manager Kevin Knight said around 70 people attended a launch function this week at Cape Town harbour, including representatives from engine supplier Yanmar, the new owner from Durban, and Vanessa Davidson from the South African Boat Builders Export Council (SABBEX).
"The reaction was phenomenal," Knight said. "People loved the boat. Now we are waiting to start sea trials.
"We've been building quite a few yachts for 18 years and this is a culmination of all that experience," he added. "It has been a collaborative project, and it is a sailor's boat, but one that still gives you creature comforts."
The Scape Sport 40 weighs in at under five tonnes and is a faster open-deck formulation that was partly custom-made as per instructions from the new owner himself, who is an avid sailor. Scape hopes the boat will appeal to owners looking for more open ocean adventure.
"We have predominantly done day-charter but the idea was to try and break into mainstream sailing boats," Knight told IBI earlier this year when the model was first announced. "I don't think we could get much more modern.
"In boating, you have to update your range every four or five years otherwise your boats do look old," Knight said.
Davidson this week said she expected the boat to generate significant market interest.