Both smaller and larger models planned for the future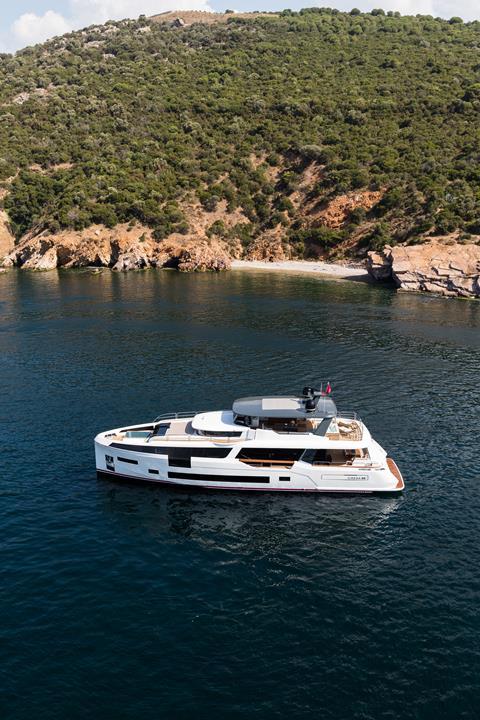 Turkish yacht-builder Sirena Marine has held the world debut of its new flagship, the Sirena 88, at the Cannes Yachting Festival. Sirena says it plans to add new models – both larger and smaller – in the future.
With the yacht's interior designed by Cor D Rover and with naval architecture and exterior design by German Frers, work on two other Sirena 88 hulls is underway. Federico Martini, general manager, told IBI: "We are in close negotiation with a European client for the purchase of this first hull. A number of the client's own design requests are included and we hope the complete the sale shortly."
He added: "Hull two is well advanced and hull three is being laminated. The hull of the Sirena 88 is built at our inland shipyard and then moved to our marine facility in Tuzla for outfitting, launching and commissioning. We aim to build five or six a year in the future."
Martini explained to IBI: "We have a big gap in the Sirena Marine range between the Sirena 64 and Sirena 88, so our next new model will be one in between that gap, so around 75ft. We also have plans for models larger than the Sirena 88 going up to 100ft or more. Our aim is to build five or six yachts a year."
He explained that the Sirena 88 is the largest hull that can be built at the company's inland shipyard, so larger models would be completely built at the Tuzla facility. He did not give any timing on when the next new model might be launched. As to the Sirena 64, the company is now working on hull nine and the smaller Sirena 58 is also selling well.
As to Sirena Marine sales, Martini pointed out that about 90% are made in Europe and the US. "We have an office in Ft Lauderdale serving the American market and over the next year we plan to expand our sales network in Asia-Pacific, focusing on Australia, Hong Kong and China."
The Sirena 88 is the largest project to date at 26.8m (88ft) with accommodation for up to 10 guests. "Today, we have come to this achievement by making mistakes but learning from them, struggling a lot and developing by consequence," said İpek Kıraç CEO at Sirena Marine. "Every manager describes his own business as a team work, however ours is a family work. We brought up those brands at the same time by growing up with them. We filled in our positions with the efforts of our years."
The advanced naval architecture by German Frers is enhanced by high-tech resin infusion construction and generous use of carbon fibre to reduce weight and optimise the vertical and longitudinal centres of gravity. The Sirena 88 performs at both planing and displacement speeds comfortably and economically. Following extensive sea trials, she has a range of 2,100Nm at 9kt.
"The hull shape developed during the tank testing program for the Sirena line of motoryachts is rather unique, being efficient in a wide range of boat speeds and behaving well at both slow speed as well as at planing speed," says German Frers.
"The extraordinary interior volume for a yacht of this size is also unusual," continues Frers. "The exterior lines talk of a practical, rugged, seagoing expedition vessel with generous interior light and sea views from the interior, ample deck spaces and corridors. These features have been included on all Sirena models, while maintaining an original family resemblance."
Interior designer Cor D Rover explained: "Combined with the stainless-steel detailing, reflective surfaces and off-white, hand-stitched leather, the grey oak in the design gives the interior a high-quality, contemporary look without being cold," he says. "Comfort, style and attention to detail are achieved with excellence and craftsmanship behind the design elements."
The layout can be varied according to an individual client's needs, but the standard accommodation features five staterooms with the full-beam owner's stateroom on the forward main deck, a full-beam VIP suite amidships on the lower deck, and another VIP in the forward section with an interesting skylight feature on both sides. Two en-suite guest staterooms with twin beds complete the total of 10 guest beds. A crew area insulates the guest accommodations from the engine space, and provides up to four crew with a private sitting room and two cabins.
"The yard offers the flexibility to turn any cabin into whatever the client dreams of, from gym to cinema or karaoke room to wellness spa," suggested Rover. "One of the most innovative features is surely the direct access from the master stateroom to the private foredeck dipping pool and sunbathing area. Not only is there physical access, but there is also a visual connection with views from the owner's bed onto the pool water."