The 26.7m catamaran was designed for cruising tropical regions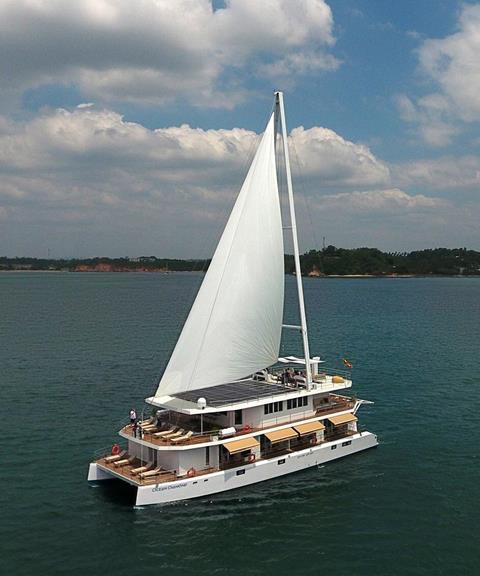 The Sri Lankan Yachting Group (SLYG) has delivered Ocean Diamond 27, an innovative concept by Pierre Pringiers, a Sri Lanka-based businessman from Belgium, together with his team of naval architects and designers working with Sri Lankan craftsmen.
According to Pringiers, founder of SLYG and boatbuilder BAFF Polymech, the vision was to build a "boutique cruising boat for coastal tourism in the tropical belt."
Ocean Diamond is a twin engine-powered catamaran with a gennaker sail as an auxiliary propulsion system and solar charging assistance for electrical power.
"Ocean Diamond is the latest and largest yacht in the Sail Lanka Yachting Group fleet and is the result of my desire to create and promote coastal cruising as an ecologically sustainable tourist activity in Sri Lanka and the greater Indian Ocean region," Pringiers told IBI. "Cruising the coastlines of this beautiful region forges a lasting bond between visitors and the community as our guests discover the wonder of the ocean."
Pringiers' vision is based on boats built, owned and operated in Sri Lanka as a positive complement to the Sri Lankan tourism industry. The objective is to maximise the socio-economic returns in an environmentally sensitive way and provide benefits to the nation and its people.
IBI visited the boat yard in October 2018 and saw the plugs for the tooling of the Ocean Diamond under construction while visiting the Building a Future Foundation (BAFF) training school which Pringiers established with the co-operation of the NAITA (National Apprentice & Industrial Training Authority) to train the skilled staff needed for the manufacturing and charter operation group.
The yard currently employs 350 local workers manufacturing and operating, with Sail Lanka, a range of catamarans from 40ft-90ft.
Ocean Diamond was designed by naval architect Sabrosa-Rain VPLP and interior consultant Elison Design with accommodation on three levels. The upper level has an air-conditioned lounge and bar area opening into a relaxed sundeck, while 10 cabins – eight with double berths and two with single berths – are located on main deck above the waterline. Crew cabins and storage are located in the lower deck.
The air-conditioned cabins' suites are equipped to a high degree of comfort with compact ensuite toilet/showers, private terraces and high-speed internet connection throughout the yacht.
The 26.7m Ocean Diamond has a 12.5m beam and a draft of 1.7m. According to Pringiers, the yacht is classified by Lloyd's with class notification +100 A1 SSC passenger vessel catamaran G3.
Ocean Diamond will be registered under SCV (small commercial vessel) code, in Sri Lanka. Propulsion is by two Baudouin diesel engines of 228hp each, with three generating sets and a roof-mounted solar charging system.
Pringiers confirmed that the country's tourism industry is recovering from the terrorist events of April 2019. During IBI's visit to the island in 2018, an industry conference organised by the Boatbuilding Training Institute and the Economic Development Board was attended by delegates from government and industry. This gave a strong signal that developing marine tourism is high on the list of government priorities with a newly built marina in the capital Colombo scheduled to be operational this year.