Following success of flagship 65-footer, Slovenian builder has ambitious plans as it starts on hull #3 of new 58, and hunts for new facilities to boost capacity
Slovenian builder SVP Yachts has begun production of the first three units of its new OceanClass 58 following the launch of its flagship OC65 at Cannes last year.
"After a successful launch of the OceanClass 65 at Cannes Yachting Festival 2017 we immediately started receiving requests for a smaller version of an oceangoing motor yacht, preferably with the HDrive propulsion. We already signed the first order to a proud owner in Hong Kong with a special custom layout for the Asian market, launching at Boot Düsseldorf 2020", commented Vladimir Zinchenko, CEO and founder of SVP YACHTS.
The OceanClass range is designed for oceangoing navigation, and is one of few yachts in this size range to have an A certificate for global oceangoing – "Even though our customers don't cross oceans every time they leave their marina, they do tend to spend a lot more time onboard and are more curious and adventurous which is why they chose the Oceanclass over a B class certified motor yacht from some other brand. It is a little bit like owning a big SUV car and rarely use it to drive it off road," says Luca Meffle, head of sales and marketing.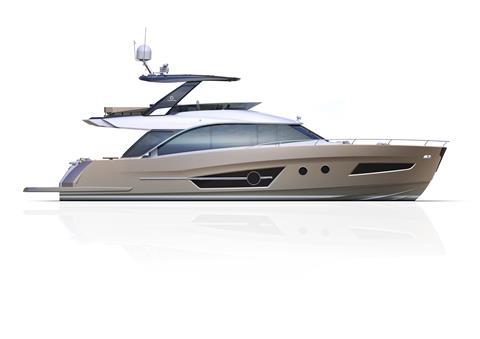 The OC58 will be one of three new models in the pipeline and follows the recent launch of three more models from the Slovenian builder: The Greenline 39 unveiled at Dusseldorf (2017); the OC65 that debuted at Cannes in 2017; and the NEO open that hit the water at Monaco this September. As well as the OC58, we can expect a Greenline 48 Coupe for 2019 – that model will be launched at Dusselfdorf in January, along with a NEO HT and Coupe. A GL45 is due to be unveiled in April 2019.
The raft of new launches follows an intense period of investment by SVP Yachts owner Vladimir Zinchenko, who bought Greenline, OceanClass and all the previous buildings and machines of Seaway, back in 2015. SVP also acquired the Shipman brand in April this year, which it plans to relaunch in 2019.
Since the launch at Cannes lasy year it has sold two OC65s and has a third in production. It plans to build 3-4 models a year of that flagship model to ensure it can maintain the levels of customisation required by clients.
The builder is now on the hunt for new facilities to expand its production by up to 30%.