Anytec launches new outboard model in collaboration with Dutch design firm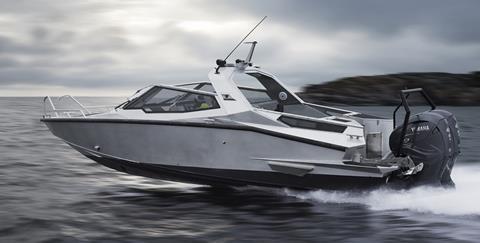 Swedish boat manufacturer Anytec has launched a new outboard model in collaboration with Dutch design firm Vripack.
The 9.6m Anytec A30 is an innovative boat, combining a high level of functionality with great power. With twin-mounted engines of up to 850hp, it can reach speeds of up to 60kt with retained stability.
The interior of the A30 offers many amenities, including five seats equipped with shock absorbers, a galley, toilet and an aft sofa that is easily converted into a bed.
"Aboard the A30 you're met by spacious social areas and many smart details that are appreciated by drivers and passengers alike," says Anytec CEO David Stenlund. "We've also focused on creating an exterior with a lot of attitude but with elegant, pleasant lines that speak to even the most discerning users."
Anytec is a well-known brand on the Nordic aluminium boat market. It´s not the largest producer, but often leads in the development of new models.
Vripack is well-known for its exclusive yacht designs. By modelling the boat digitally and using virtual reality technology, it was possible to explore and test drive the Anytec A30 as a virtual prototype throughout the development process.
Virtual reality is a relatively new technology when it comes to boat manufacturing. Today it's an effective method for testing ergonomics and functionality early in the design process.