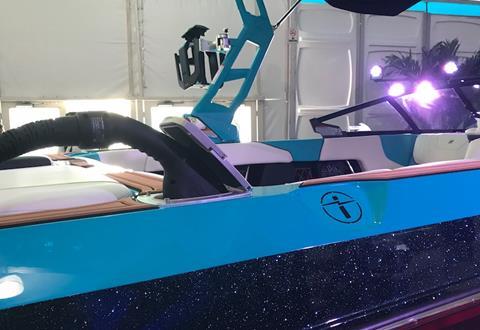 The first all-electric boat capable of delivering a "normal watersports use experience" was introduced to the Miami International Boat Show (MIBS) last week by Nautique Boats, and not surprisingly, was named a National Marine Manufacturers Association (NMMA) Innovation Award winner for Electrical Propulsion.
The 100% electric GS22E overcame the hurdle of battery life, by inventing its own; through parent company Correct Craft's Watershed Innovations division, and its subsidiary, Ingenity. And if the lineage seems convoluted, the concept is not.
"How can we power a boat that doesn't sacrifice any of the fun, using an electric drivetrain," asked Watershed Innovation president Sean Marrero. "This boat is not designed for efficiencies, it's designed for fun. And it was a real challenge for us to find something with enough stored energy to make the boat last long enough for people to enjoy it. So, Ingenity developed a battery that is 25% larger than any Tesla battery on the market."
At 124 kWh, the system has impressive peak power of over 200 kWh, plenty of torque and performance that is designed to feel very similar to its gas counterpart and runs 2-3 hours of typical watersport use.
"Our customers like to wakesurf and wakeboard and well, as good as most of them are, they still fall," Nautique President Greg Meloon told IBI. "There's times when you're running at idle and you're idling back or there's times when you're just enjoying the music and in changing between sports, those are times when your battery is being used hardly at all. That's the beauty of this. The overall experience, you're looking at a two and a half hour normal-use type rate on the boat itself."
After the fun, there is still up to three hours of idle left in the battery, Marrero said, and will recharge in as little as 90 minutes.
"The battery is smart and it knows that when it's getting discharged to the point where it needs to leave you with enough reserve power, it does that automatically for you. You don't have to worry about that."
Igenity has also overcome battery cooling and the related safety issues. The on-shore "charging handle" delivers no power until plugged into the boat's receiver, eliminating any fear of dropping it in the water.
The battery development took a seemingly short 18 months, according to Correct Craft president and CEO Bill Yeargin, who told IBI that while the Ingenity battery technology is already the best in the world, it's only going to get better.
"I've been to Dusseldorf, I've been around this show, there's nobody that's got anything close to what we have," Yeargin said. "Despite that, it's only going to get better. And technological improvements in battery will improve not only what we do, but what we'll be able to create in the future."
Eventually, Yeargin confessed, he can see Ingenity becoming a supplier to other boat builders.
"We want to provide this to our companies first, in the next year or two, then maybe two to three years from now we'll be, maybe less, we'll be prepared to supply to the industry," Yeargin said.