The two Japanese companies will partner on production of a new fishing boat targeted to the domestic leisure market
Tohatsu Corporation has entered into an agreement with Yanmar Marine System for the supply of a new pleasure boat model, based on product design by Tohatsu. The 23ft walk-around pleasure fishing boat with enclosed cabin will be developed and produced by Yanmar Shipbuilding & Engineering Co, also based in Japan, and supplied to Tohatsu through Yanmar Marine.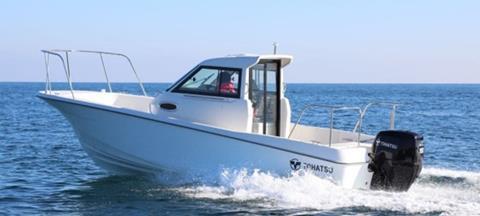 The new model – the Pleasure Fishing Boat TF-23X – was unveiled and displayed at the 2019 Japan International Boat Show, held at Pacifico Yokohama earlier this month and will be available for sale in Japan's domestic market in April 2019.
Hinting at the strategy behind this move, Tohatsu said in its statement that the company is committed to popularising and reviving the Japanese domestic marine leisure industry with an extended lineup of pleasure boats through the new OEM agreement with Yanmar.
Tohatsu Fact File
Head Office: Tokyo, Japan
Established: 20 October 1922
President: Isami Hyuga
Business: Manufacturing & sales of outboard motors, pleasure boats, portable pumps, small fire trucks, etc.
2018 Revenues: ¥29 billion ($258 million); 75% from the marine business
Cumulative production of outboard engine units: 4.17 million
Empolyees: 500
Subsidiaries: Tohatsu Marine Corp. (a joint venture with Brunswick Corporation) located in Japan; Tohatsu America Corp. based in Texas, USA